Toyota Land Cruiser SUV Better MPG
In the case of Toyota's new Land Cruiser crossover utility vehicle, there have been major improvements in terms of upping that crucial miles-per-gallon count. The 3.0 Litre diesel model can do 34.87 combined MPG, according to Toyota.
There is also a forthcoming hybrid version of the Land Cruiser that utilizes technology originally designed for use in the Prius that reaches an incredible 28 miles per gallon in the city.
By the standard of 7-seaters, that is about as good as it gets and indeed we won't see much better probably until Toyota changes the game next year with its Prius+, the first people carrier in the Prius range.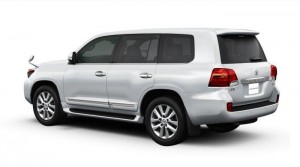 Toyota Land Cruiser (2013) pictured above.
Toyota Land Cruiser Performance
So how does the new Land Cruiser rate in terms of performance given the manufacturer has focused on raising fuel efficiency? The answer is very well. It gives a smooth, controlled drive when cruising, an important consideration for a people carrier given that large distances are often when these vehicles are fully put to the test. It gets up to speed in a very respectable amount of time and demonstrates excellent handling on the road. The maximum speed being 108mph with an acceleration of 0-62mpg in just under 11 seconds. The co2 emissions measure 214 g/km, (Car Tax bracket K).
Toyota Land Cruiser Technology
Inside the new Land Cruiser is a dream featuring Bluetooth mobile phone technology and an excellent stereo system as standard. This can be upgraded to a 9-speaker system that allows those sitting right at the back as good an experience as the driver. The other main options on the standard model include a voice-activated navigation system that further enhances the hands-free features and a 19-inch trim and chrome accents. That is compared to the standard 17-inch trim on the new LC.
Toyota Land Cruiser lack of Driving Noise
A noticeable aspect of driving the new Land Cruiser is the lack of noise inside the vehicle which is an added bonus that guarantees among the smoothest rides available today in any 7-seater. Clearly, Toyota has clearly thought about those little touches that make a good driving experience a great one.
Toyota Land Cruiser Conclusion
Now entering its 11 year, this 2012 version of the Land Cruiser represents a further improvement on what was already a hugely impressive CUV. It has already sold more than 1 million vehicles in this time and proved hugely popular. With this latest fuel-efficient model the world's largest manufacturer of vehicles has once again shown it knows what car buyers are looking for – fuel efficiency. And why should consumers looking for the latest 7-seater on the market be looking for anything different?
One thing 7-seaters have never been very good at is fuel efficiency. That's hardly surprising. After all, the whole point of a vehicle that can transport seven people is that it is big and has lots of power. But then owning and running a 7-seater is an expensive business, especially these days, so bringing down the cost of fuel for an SUV has always been a tricky goal for automakers.