Toyota Picnic
It first hit our shores in 1997 and only continued until 2001, but the Toyota Picnic has long been a favourite in the UK as it was one of the first 7-seaters that didn't look like a minibus or a van. The compact seven seater was available with a choice of trim levels and either a 2.0-litre petrol engine or a 2.2 turbo diesel. A cross between an MPV and an old-fashioned estate, the Toyota Picnic was ahead of its time when first released in 1995. Since then, however, the Japanese automaker has produced a raft of new 7-seaters leading to the end of the Picnic in 2009.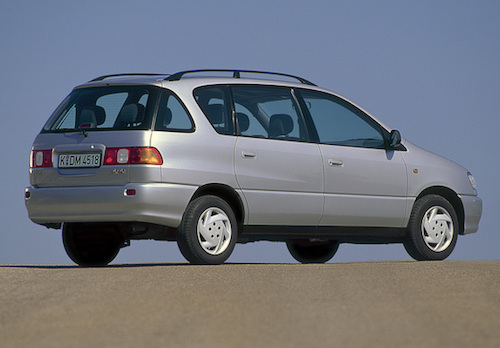 Toyota Picnic pictured above.
Purchase Price
The Toyota Picnic MPV is available second hand only. Prices are quite low because the Picnic is quite an old people carrier now. Prices vary between £1,000 and £5,000.
Six to Seven Seats
The standard version is in fact a 6-seater in a 2-2-2 formation with the option of an additional seat. As such, the third row is hardly spacious but it's one of those classic 7-seater cases where the kids go right to the back. There is plenty of legroom in the first and second rows, however, so this is a vehicle that would easily accommodate a family of six or seven.
History
With a cute name and a good brand behind it, the Toyota Picnic was never one to fail. The Japanese manufacturer was just starting to peak and take over the likes of Ford and Honda in terms of popularity around the world. Although the Picnic was named differently overseas, the Picnic sold in the UK was an explanation of what you use it for; heading to a park or the beach on a summer's day and enjoying a picnic.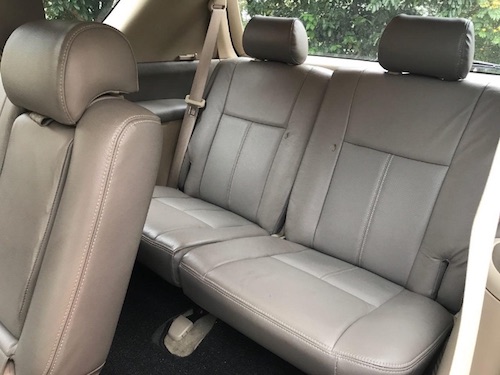 Toyota Picnic rear seats pictured above.
Performance
The 2.2-litre diesel was unfortunately made before diesels became less thrashy and noisy, but it is fairly refined and with at least 15 years under its belt, many are still going strong today. Amazingly for an old-style oil-burner it manages to return 36mpg, which when fully-loaded with people and bags, it's a welcomed aspect. The good fuel economy is partly due to the low weight, for its size, of the Picnic as it tips the scales at 1410kg, far less than the nigh-on two-tonne behemoths of the Espace or Peugeot 807. The diesel will crack 60mph in 13.5 seconds, or 10.8 seconds in the petrol-engined car. The diesel will top-out at 100mph or 109mph for the petrol motor. Despite the 86bhp diesel sounding a little weak compared to what is available these days, it is a torquey motor that defies its horsepower statistics as it boasts an impressive 151lb-ft to twist those wheels up hills and over dales. It has a much lower driving position than your average SUV, the fact this vehicle is considerably lower to the ground means it handles extremely well on corners with practically zero body roll.
Excellent Motorway Cruiser
With a 60-litre fuel tank and the ability to tow up to 1,500kgs, it makes for an excellent motorway cruiser when you're heading to a campsite with the kids. There is a good amount of room but as it's a compact MPV, once it is fully loaded it can seem a little cramped. If you're lucky and the first owner stipulated a few options, then you could see air-conditioning, electric seats, mirrors and windows as well as a CD player. If you're not so lucky, you could end up with ugly cloth seats, a cassette player and manual winders. But, for the used prices of Picnics, which are as low as £1,000, it's a small price to pay to have a multi-seat vehicle.
C02 Emissions
Although the Picnic pumps out 206g/km CO2 (or 233g/km CO2 for the petrol), it doesn't qualify for the new road tax laws and therefore, it's the standard rate. The Picnic might be looking a little dated on the interior nowadays but on the outside, it still looks fresh. If it hasn't had stone-chips or minor bumps, Toyotas generally have excellent paintwork as the years go on, so if you're looking for a bargain, try a Picnic!
Replaced by Verso
Toyota has introduced the likes of the Verso to replace the popular Toyota Picnic in recent years, as the company has moved away from estate-type 7-seaters. In many ways, it's difficult to see why. SUVs and crossovers have become more fashionable but, ultimately, the Picnic does its job remarkably well.
.more...