Toyota Previa
Still among the biggest selling people carriers in many overseas markets, in Europe drivers have missed the best of the Toyota Previa, simply because the vehicle hasn't been updated here since the turn of the millennium. While the likes of Australia and Japan have been driving the third generation Previa since 2006, no such thing has happened in the UK and elsewhere on the continent. The reason why is simple: the SEAT Alhambra.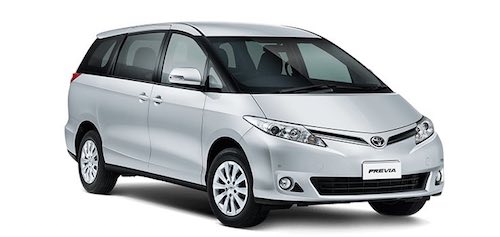 Toyota Previa pictured above.
Purchase Price
Priced at a heavily discounted rate when it came to the end of its model cycle in 2004, Toyota appears to have played safe in Europe and waited before releasing a new Previa. Still, car buyers here can get bargain second-hand second generation for next to nothing. Prices vary between £100 and £15,000.
Engines
There are a choice of respectably sized engines from a 2-litre diesel, producing 116 horsepower, to a 2.4-litre petrol version generating 156hp, while the more powerful 3-litre was only available on import; automatic transmissions were only fitted in the petrol models. Slightly longer than the first generation, this is a vehicle with oceans of space inside. The Previa can fit in seven passengers with relative ease, and even eight, provided they're not all adults.
Appearance
The thing that has really stood this people carrier apart from others is the way in which looks and space complement each other. Too often the exterior of a large passenger vehicle is compromised to make way for the bulk; not so with the Previa. The front end is about as sexy as it gets in this range, featuring a sleek steep-angled bonnet and front windshield hiding a roomy rear, which packs in all the space.
Exterior Upgrade
Now, this is where the third generation really comes up trumps (and where the UK and the rest of Europe are missing out). The exterior of the latest Previa features much softer curves topped off with a sharper front end with narrow head lights that angle back, helping to disguise the bulk. The overall effect is a vehicle that is more modern and with better proportions, while still packing in all that extra space. In 2009, Toyota also added G-Book to this model, a subscription telematics service that links up with mobile phones and PDAs.
For the UK buyer the Previa provides something of a dilemma. Is it worth buying one second-hand for a great price or better to hold on for the vague possibility that a new version will reach these shores? It's difficult to say. For the meantime, there is no indication of a new model coming to Europe.
Hybrid Version
From Toyota's point of view however, there is surely a case to be made for a new Previa in Europe given how well it has done elsewhere. Added to this equation is the possibility of a wider release of the hybrid version, which is currently only available In Japan and Hong Kong. What happens next is anyone's guess.
.more...