Ariel Atom
There is a saying in car circles that, "There isn't no replacement for displacement", meaning big-bruiser V8 engines with 4,000cc+ cannot be beaten. The Ariel Company takes a different view of this and retaliates with not much more than a cage with a peppy engine. The Ariel Atom lightweight components, lack of anything that really resembles a 'car' and fruity 2.0l Honda engine make the Ariel Atom a force to be reckoned with. In fact, it even holds the record for being the fastest accelerating road car and second fastest indoor car in the world. The Ariel Atom Mugen is a 2 Seater Car.
There have been a few guises of the Ariel Atom in its decade-long history, which include the record-breaking supercharged version and, to mark its 10th year in production, the company are bringing Honda's tuning company to the table with the Ariel Atom Mugen. Mugen have long been 'fettlers' for Honda's and Honda-powered cars, and in this limited-to-10-car production, the new Ariel Atom is a very interesting one indeed.
Powered by the ever-faithful K20A Honda 2.0 litre engine, it manages to churn out 270bhp! Other 2.0l engines can barely pull a figure that's half of that, and with Honda's reliability, Ariel obviously had no worry in using it. The engine is naturally-aspirated, meaning there is no reliance on superchargers, turbo-chargers or anything out of the ordinary; just plain old excellent engineering and high-revving qualities.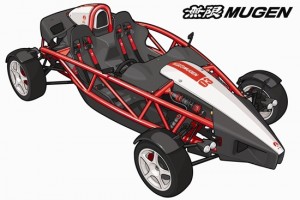 When you think of a nigh-on 300bhp naturally-aspirated engine you automatically think of touring cars, and these are where the engine is derived. With only 10 of the Ariel Atom Mugen's being made, due to be released in March 2011, it is doubtful many drivers will even see one, never mind own one. But, should you manage to catch a glimpse, you'll notice the specially designed Mugen livery, akin to the old Honda Race Series of the 1980s.
The Honda Type-R engine pumping out that bhp figure means the car's power-to-weight ratio is 549bhp/ton, which smashes the Bugatti Veyron into oblivion. The 0-60mph time is due to fall from the already seriously impressive 3.2 seconds into the 2's and it's highly doubtful anything other than an F1 car could show it a clean pad or heels on track.
The pricing is being kept quiet up until the Autoshow launch in March, where prospective buyers will be able, if they are quick, to place orders on the day. The final figures and specifications are also being kept under wraps, but this exclusive skeletal car is already drawing huge attention form the media.
Ariel decided to let Mugen build the cars from scratch, rather than have a technician from the company oversee the process, mainly because Mugen's technicians are just as meticulous as Ariel's. One technician builds the engine, while the other builds the car. That level of intimacy and lack of any time-restraints means the cars will be 100% perfect, every time. If that doesn't make you want to reach for your credit card, then I'm not sure what will.
.more...