Chevrolet Suburban
Similar to the GMC Yukon as they share the same platform, the Chevy Suburban is one of the longest running Seven SeatSUVs in the world. The 'Burban has been transporting large families around since the 1930s and it has seen many changes in its looks, but the ethos has always remained the same. Whether carrying seven people, luggage and towing a heavy trailer, or a combination of all three, the Chevrolet Suburban is a trusty old steed that is as versatile as any other.
Shipped Over to Britain
Although the Chevrolet Surburban people carrier was never officially sold in the UK, there were many shipped over to compete against the likes of the weedy-looking Zafira or the minibus-style Ford Galaxy, particularly when the dollar/pound ratio was 2:1. Compared to cars sold in the UK, the Chevy is huge. It can easily carry luggage and having seven seats makes it practical for family holidays. With two gutsy engines, both V8s, and having a truck-like stance, it can tow up to 4.5-tonnes, making it a perfect hauler too.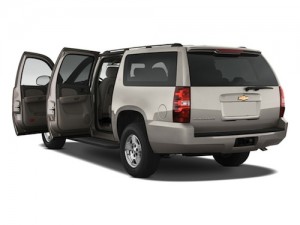 Chevrolet Suburban pictured above.
There are two models, the 1500 and the 2500, which have a 5.3-litre and a 6.0-litre V8 respectively. The torque figures are 376lb-ft and 385lb-ft, while the power figures are 310 and 366. Both are equally as rampant as the other although the bigger bore engine is good for heavy-duty use. There is a six-speed auto box that wafts effortlessly between gears and can withstand the strains of hauling heavy trailers or caravans. It can reach 120mph and 60mph comes up in around nine seconds, making it a bit of a shock when trying to press on.
Many Gadgets
One area that has equally as many pros as it does cons, is the interior. Whichever model you choose, the dashboard plastics cannot compete with German or Japanese rivals and looks very dated. That said, there are many toys fitted as standard, DVD/CD player, tri-climate control, traction control, stability control, power-adjustable pedals, steering audio controls and huge arm-chairs for all seven people. Tyre pressure monitors, four-wheel steering (Quardrasteer) and satellite navigation are also included. There is the option to have two- or four-wheel drive power-trains, but the latter will sap even more power and thus the fuel consumption will be even more dire than it is already (22mpg is the best it can muster).
Chrysler and Chevrolet Parts
Many people in the UK might be put off from buying an American car due to parts and servicing problems, but with Chrysler and Chevrolet dipping into the European market more and more these days, it makes the logistics of finding parts easier. While our twisty, tight roads can be tricky in such as big vehicle, when out on the open roads and motorways, it all makes sense. It will waft effortlessly up hills and through dales, and despite having brick-like aerodynamics, it's sound-proofed heavily so road and wind noise are kept to a minimum. It may take some hunting around to find a Chevrolet Suburban, but for a seven-seater that can comfortably carry people, luggage and tow heavy trailers, it's worth the search.
.more...