Honda FRV
The Honda FRV S6-Seater FRV is one of the nation's most popular cars, providing it's users with functionality and performance in equal measure. Despite the large amount of internal space built into the 4x4 body of the FR-V, the car itself is surprisingly small and nimble meaning that you can transport up to six people without needing a large, cumbersome vehicle.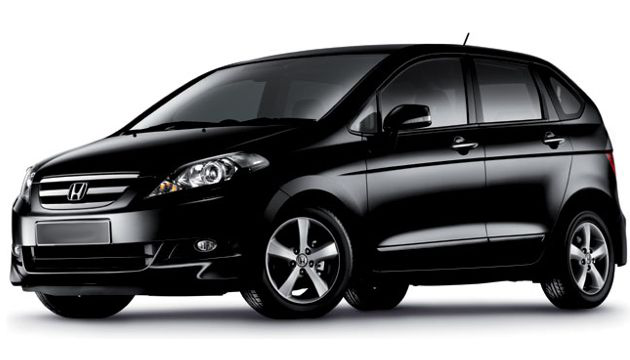 Honda FRV pictured above.
Its unconventional. Featuring just two rows of seats, it is one of a handful of vehicles, which includes the FiatMultipla, that solves the space conundrum by adding seats width-ways rather than down the length of the vehicle. It's a 6-seater in other words, fitting 3 people on each row, which makes it a very different vehicle to your average MPV.
Purchase Price
The most economical versions retailed from £20,820, although the top of the line models cost as much as £31,395. However, availability ceased in this country in 2009. Since then only second hand models are available. Prices vary between £6,000 and £14,000.
Due to the FR-V's longevity, there are a large number of high quality second hand models available. If you buy one through a Honda Garage you will benefit from a whole years warranty.
Models available
Most models of the FRV come with a range of Honda's leading diesel engines, including the superb i-CTDi, and have features such as ABS, air conditioning, CD player, air bags, electric mirrors, electric front windows, Isofix anchor points and traction control as standard. More advanced models also feature options for leather trim, climate control, cruise control, headlight washers, parking sensors, lumbar support seats and an electric sunroof.
Running Costs
Servicing costs between £165 and £300 depending on what work needs to be undertaken by the garage, although there are often special deals in place to help lower these costs. It should always be remembered, though, that prices can vary nationally so check with your local garages. A set of good tyres will set you back around £400.
Insurance Group
As there is no option for a smaller engine on a FRV, with the smallest available being a 2.0 iVTEC, the insurance UK can nudge the running costs up slightly as all models fall between insurance groups 12 and 14.
Engine Options, Car Tax & MPG
There are three main engine options, each of which has their own efficiency and emissions ratings. The most common engine option is the petrol 2.0 i-VTEC, which holds a combined 34mpg and falls into VED Band J with 192g/km of CO2. The two upgraded diesel engine options, the 2.2 i-DTEC and 2.2 i-CTDi are each rated in Band H, with emissions ratings of around 171g/km and an economy of 43mpg.
Performance
All three engine options hand out similar performances in terms of speed in the Honda FR-V, with all three reaching a top speed of just over 115mph and going from standstill to 60mph in just over 10 seconds. The best performer, though, is the 2.2 i-DTEC which can go from 0-60mph in 9.3s and reach speeds of up to 118mph.
Appearance
In terms of looks, the Honda FR-V is gorgeous compared to your average MPV. It's wide, curvy and sleek in all the right places and looks a great deal more sporty than your average people carrier. The inside feels luxurious and spacious, while mechanically it's what you would expect from a Honda.
Conclusion
Many buyers may not go for the extra seat in the front row but there is no doubt the Honda FR-V offers another valid compromise in the market. Put simply, if you're looking for a bit of extra space but don't want to go all the way for a seven-seater, then this is the right vehicle. The two rows of three seats leaves an excellent boot space that can fit enough luggage for a family of six on a 3-week holiday. And I know this because I have one and drove to Spain in it. Another one of the advantages of this design configuration is that it is much lower to the ground than your average MPV given it creates its seating space through width rather than length and height. This means it offers an excellent driving performance and the steering is sublime.
.more...