Carry Eight, Nine or More People
The world's car markets are rapidly filling up with all manner of seven-seaters. From the old days when your only choice in this space was to get a van or a rare and gargantuan estate, the automobile industry has expanded to embrace a range of sectors and niches.
Today, you can choose from mini-MPVs, mid-sized MPVs, conventional MPVS, SUVs, cross-over MPVs and SUVs, various soft-roaders, off-roaders and 4x4s, mini-vans, minibuses, extended wheelbase estates and saloons, giganto-hatches, and even green vehicles with various combinations of all-electric, natural gas and hybrid power trains. Specialist companies can provide stretched Mercedes-Benz limousines, armoured vehicles capable of withstanding machine guns and grenades, and luxury off-road motorhomes with six-wheel drive underpinnings, should you need to carry your family across the desert.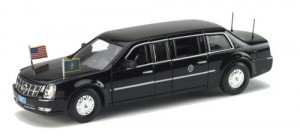 The Cadillac Beast with eight seats
But what if you simply need to carry eight people or more on a regular basis, through regular streets, with, dare we say it – monotonous regularity? In these cases, you may well find yourself returning to the roots of people movers.
Some of the roomiest and even most luxurious people movers you'll find sit firmly in the van ranges of the big automakers. Though they share their basic engineering with the more utilitarian offerings in their ranges, they tend to be fitted with seating for eight people and more in cabins designed to minimize or eliminate the feeling that they're being carted off to Sunday school or summer camp.
Volkswagen, for example, offers its Transporter Shuttle, based on the chassis used for its Transporter van. This eight-seater starts at £26,426 on-the-road.
At this price, you get a nicely-appointed German van with two sliding side doors. The Transporter Shuttle is available with a range of turbocharged, injected diesel engines driving the front wheels through a mix of manual and automatic transmissions.
Fiat Scudo Combi
If you prefer Italian automobiles, you might take a look at the Fiat Scudo Combi. Though this looks more like an MPV, it's definitely a van, is sold by Fiat's commercial vehicle dealers and comes with seating for nine.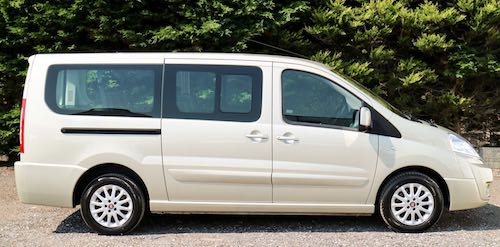 Fiat Scudo Combi (8 Seater) pictures above.
Prices for the Scudo van start at £17,795, excluding VAT. As with most commercial vehicles and passenger cars based on them, the Scudo comes with a choice of diesel engines.
Ducato Passenger Transport
If you need something bigger, the Ducato Passenger Transport gives up to nine people even more headroom, masses of leg room and a huge amount of storage space.
The Ducato is available in medium-wheelbase variants that provide room VIP transport for five or six people. Some Ducato versions can carry as many as 16 or even 21 people but beware that licensing or insurance restrictions may apply.
These are only a few of the options available from the commercial vehicles offered by big-name automakers. Often, you'll find no reference to these vehicles on the manufacturers' car web sites, so you may have to look specifically at the commercial vehicle sites.
Mercedes-Benz offers a range of van-based people movers. The smallest is the Vito, which looks the least like a classic van. Models based on the company's Sprinter van are likely to be too large for almost any normal family. The more well known Viano is sold as a family people carrier.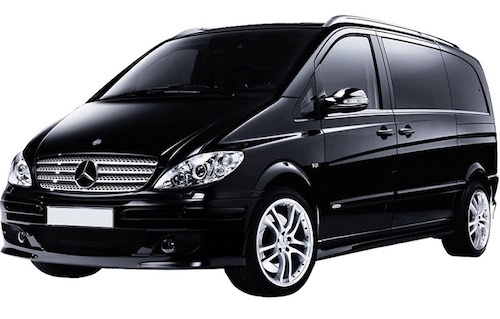 Mercedes Benz Viano 8 Seater pictures above.
Ford offers a relatively small passenger van called the Tourneo Connect but it can only carry five people. For nine seats or more, you'll have to go shopping for the MiniBus version of the Blue Oval's classic Transit range.
Renault also offers two vans in passenger models. The smaller of these is the Trafic. Looking a bit like an oddly-enlarged Grand Scenic, the Trafic Commercial Passenger Vehicle is available in versions seating six, eight or nine people and there's even a Sport model, if you need something with more go.
.more...