2012 Hyundai Santa Fe
South Korean automaker Hyundai has revealed more images of the latest incarnation of its popular 7-seater the Santa Fe prior to an official unveiling due next month. And from what we have seen, it's shaping up to be an extremely attractive vehicle. Indeed, there are plenty of new features added to this latest version.
For a start, it will include a new Lane Departure Warning System designed to make driving a great deal safer, especially at night. Further safety features listed by Hyundai include seven air bags, some of which will protect the knees.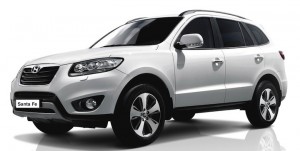 Hyundai Santa Fe pictured above (2012).
Purchase Price
The Hyundai Santa Fe costs from £23,745 to £26,445 to purchase from new.
Exterior
But it's in terms of exterior looks where the new Hyundai Santa Fe will really differ from the models that have come before it. Based on the South Korean companies 'Storm Edge' design philosophy, this upgraded 7-seater boats a curvy, robust body and LED positioning lights at the front and rear.
Alloy Wheels
To complete the high-end feel of this SUV, Hyundai has also added 19-inch aluminium alloy wheels. As such, this is a vehicle that should punch well above its price range. After all, the Hyundai Santa Fe has remained significantly cheaper, with brands it is hoping to challenge including the Toyota range and the higher end Lexus.
Interior
Inside, there is also the feeling that this is a vehicle that should cost a great deal more than it actually does. Another new feature will be the telematics Blue Link service, a feature of other Hyundai models but a first for the Santa Fe. The hallmark of this system is a host of interconnected hands-free services that not only make driving a great deal safer, but also allow you to do a host of tasks, including voice text messaging.
New York Motor Show
The remainder of the additional features on the latest instalment of the Hyundai Santa Fe won't become apparent until the vehicle is officially shown off at the New York motor show at the start of April; not long to wait at all then!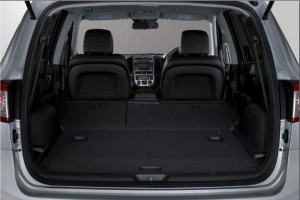 Hyundai Santa Fe boot space pictured above
Performance
Modelled on the Hyundai Sonata, a mid-size higher-end saloon that again invited consumers to believe in the luxury credentials of the South Korean brand, the Santa Fe has developed something of a following since it was first launched at the start of the new millennium. Although critics said it looked a bit odd to begin with, this is a 7-seater SUV that has since won over car buyers and commentators alike. The second generation has scored highly for its versatility, which includes an engine range from a 2.2-litre diesel, which produces 150 break horsepower, to a 3.5-litre petrol version, generating 276hp.
Still, this is a vehicle that has remained largely unchanged for the past few years. For the latest 2012 edition, the coloured grille was straightened there was a new gear shift knob inside. The most significant change was the downhill brake assist, which brought the Santa Fe into line with more expensive SUVs in a similar size and scope. This all means the version coming out in April represents the biggest upgrade in years.
.more...