Kia Sedona
Sedona by Kia (bigger the rest)
The Kia Sedona is one of the most economical, largest and easiest to drive seven seater car on the market today. Although the functionality and low price have compromised the looks slightly, with the Sedona looking boxier than other similar models, it's low price and other strong features make up for this slight flaw. In 2010, it became even better value and even more economical. The South Korean automaker reduced the engine size from the previous 2.9-litre CDRi to the more fuel-efficient 2.2-litre CDRi. In addition, it added a reversing camera ― a must for long vehicles such as this.
Kia Sedona original style pictured above.
Boot Space
The back seats can be completely removed if needs be, meaning that you can either have a 7 seater car with limited boot space or a 5 seater with an impressive amount of room in the back. The car also is also surprisingly easy to drive, with a nice tight turning circle, responsive diesel engine and smooth ride on even rough roads.
Purchase Price
A basic model will set you back £19,795 from new, although a whole raft of upgrade options can potentially push the price up to as high as £25,570. An abundance of second hand parts and good reliability, though, does mean that a number of older second hand models can be bought for as low as £4,500. This car has just recently stopped being available from new in the UK. However in comparison to other large people carriers it's excellently priced, given what you get for the money, and its 2-3-2 seating configuration maximises space for passengers. Some second hand models are available from under £1,000.
General Running Costs
The manual gearbox which use the 2.2 CDRi fall into Band I for emissions, while the automatic gearbox versions call into Band. Meanwhile, the 2.9 CDRi falls into Band K for VED. A manual gearbox 2.2 CDRi engine will get 42mpg, while automatic options droop down to 37mpg. Similarly, the 2.9 CDRi will get 36mpg manual and 31 mpg automatic. The insurance falls between groups 12 and 14, depending on the model.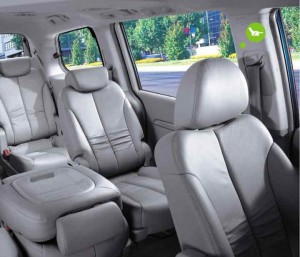 Kia Sedona interior seating pictured above.
Safety Features
This people carrier comes with safety features such as ABS, airbags, Isofix points, PAS and remote locking as standard. In more expensive models, upgrades such as a CD player, alloy wheels, parking sensors, cruise control and heated seats are available.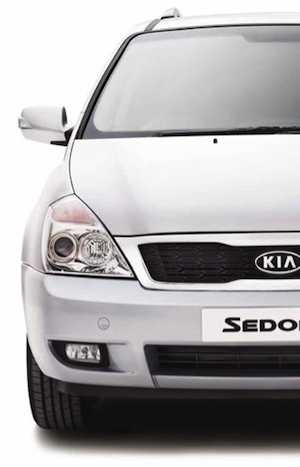 Kia Sedona front view pictured above.
Trim Levels
In the UK, the Kia Sedona now comes in three trim levels, the first of which features electric windows and air conditioning. The second trim level includes the new rear parking camera, which is handily built into the rear-view mirror, climate control and alloy wheels. Trim three comes with leather throughout, heated front seats, powered folding door mirrors and electronic stability control, among other features. From the outside, the most obvious difference to the 2010 model is the new tiger nose grill, which has drastically improved how the vehicle looks.
Servicing and 7 year Warranty
Although the servicing can be slightly more expensive than average, with some first year costs as high as £185 although prices can always vary nationally. This is generally offset, though, by Kia's outstanding 7 year, unlimited miles warranty.
Engines Choices
There are three engine options available across the range, a 2.2 CDRi, a 2.9 CDRi and a 2.7 petrol V6. Although the V6 petrol engine should be disregarded as an option thanks to it's terrible efficiency and sky-high emissions, both of the diesel engines offered on a Sedona are solid choices. The 2.2 CDRi is the slightly more efficient of the two, with between 179g/km and 199g/km of CO2 being emitted depending on the gearbox, while the 2.9 CDRi will emit between 224g/km.
Top Speed
Both CDRi engines have a top speed of around 120mph, with the only difference being the 0-60mph time ñ the 2.2 reaches it between 10.9s and 11.5s while the 2.9ltr takes between 15s and 15.9s.
Conclusion
This big MPV ranked as the second-highest selling vehicle in its category in the UK, a sign that perhaps the Kia Sedona ticks all the right boxes. In a segment, which demands space and comfort over drive performance and value for money, not to mention top range standard and optional equipment, this is a vehicle that appeals to big families on a budget.
Overall, the Kia Sedona is a whole lot of 7-seater for your money. And thanks to its huge success in the UK, we can expect this affordable large MPV to keep on going for some time yet.
.more...