Kia Sedona - 3 Models
The Kia Sedona is one of the best-selling MPV's on the market. This new model is an enhanced version, with a seven seat capacity. It's available in three models, named simply 1, 2 and 3.
Kia Sedona pictured above
Purchase Price
On the Road Prices start at £19,965.00 and go up to £24,055.00. Metallic paint will cost and extra £425.
Sedona Aesthetics
This vehicle is all about comfort, safety and space, but aesthetics and style are also strong selling points. Like all Kia models, the Sedona features the distinctive 'Tiger-Nose' grille. To further enhance the sleek exterior, the mirrors, door handles and bumpers are all the same colour as the body.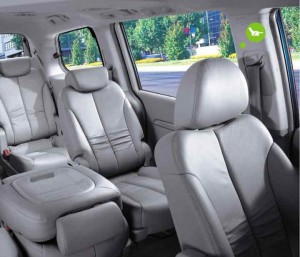 Kia Sedona seating pictured above
Sedona Spacious Interior
The Kia Sedona's interior is practical, stylish and comfortable. The elevated driver's seat gives optimum road-vision, and can be electronically adjusted to suit you, as can the automatic head rests. The steering wheel can also be tilted and adjusted for greater comfort and ease of use, and there are several handy storage compartments, as well as folding tables and cup holders for passenger seats. The automatic air conditioning can be adjusted by passengers as well as the driver due to the separate passenger controls, so everyone can stay comfortable.
Additional Features
Standard Sedona features include six airbags, air conditioning, dual-sliding doors and electric windows, as well as a sound system with MP3 and USB compatibility and six speakers. Those who want to go a little further can upgrade to the Sedona 2, which comes with an innovative reversing camera. This feature is undoubtedly the most impressive of them all. It makes an external camera view visible in the rear view mirror every time the car is put into reverse gear, making parking a whole lot easier. Those who opt for the Sedona 3 will enjoy cruise control, electronic folding mirrors and privacy glass, which is also available with the Sedona 2.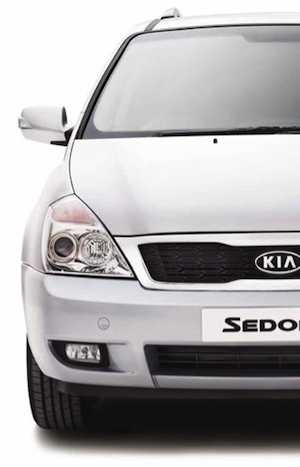 Kia Sedona front view pictured above
Performance
As far as technical specifications go, the Sedona is powered by a 2.2 litre CRDi diesel engine with a six speed transmission, which provides 192 bhp. This engine is economical as well as powerful, providing 42.2 MPG, with the manual model only producing 179/kms in emissions. Technology developed by McPherson has also been used to improve the way the car handles, so drivers can enjoy a smooth and pleasant ride.
Seating Variability
The Kia Sedona's seven seats are arranged in two rows of two with a row of three in the middle. All but the middle seats can slide, adjust and recline to make room for whatever you may need. All in all, there's 3,423 litres of storage space, which can be adapted according to your daily requirements. For an extra touch of convenience, the back two rows of seating can be folded down automatically simply by pressing a button, so creating cabin space couldn't be easier. For easy access, the sliding doors can also be controlled automatically using Kia's one-touch keyless system.
Seven Year Warranty
The Sedona has clearly been designed with user convenience in mind. It's full of clever little features, and it's easy to see the attention to detail involved in its design. It's marketed as a combination of power, comfort, space and safety, and it definitely lives up to that. This vehicle would be ideal for people with a hectic lifestyle who are looking for an MPV to make their lives a bit easier. The Kia Sedona also comes with a standard seven-year warranty.
.more...