Kia KV7 Concept Car
Kia has launched a snazzy new seven-seater MPV concept. Called the KV7, the slick, California-designed concept was produced as a showcase of Kia's vision of big MPVs, particularly where the US market is concerned.
The concept vehicle was unveiled at the North American International Auto Show in Detroit, Michigan, on Monday. Kia referred to the concept vehicle as 'convention-challenging'. The KV7 indeed looks set to challenge conventional thinking when it comes to large MPVs. The vehicle is almost 4.9 metres in length and in excess of two metres wide.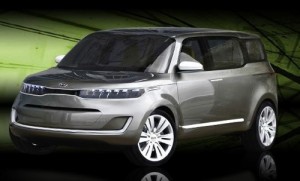 Kia 7-Seater concept car pictured above.
In addition to the striking, futuristic styling that belies the vehicle's practicality, the KV7 concept features a gull-wing door for passengers. Despite the size of the KV7, power comes from a 2.0-litre petrol engine with turbo-charging, as already found in the US-market Kia Optima saloon.
When a production version of the KV7 appears, it is expected to be offered both as a seven-seater and a nine-seater. There is no official word yet on whether it will be sold in the UK but reports indicate Kia won't be offering it in Britain. Here in the UK, we'll have to make do with the seven-seat versions of Carens, Sedona and Sorento.
Kia is already offering the new seven-seater Sorento in the UK. The Sorento is available with both 2.0-litre and 2.2-litre engines but if you're shopping for seven seats, you need to opt for the pricier 2.2CRDi model. Despite the seven seats, however, the UK-market Sorento is still noticeably smaller than the KV7.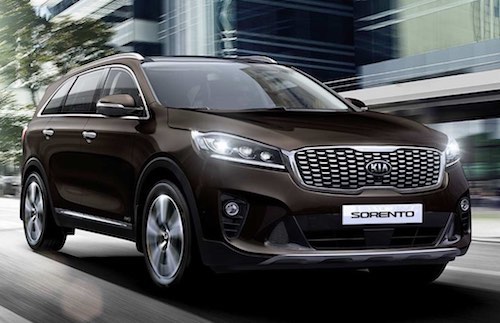 Kia Sorento pictured above.
The 2011 Sorento seven-seater is available with either front-wheel drive or four-wheel drive. The 2,199cc four-cylinder diesel engine meets Euro V regulations on emissions and produces 145bhp. It drives through a choice of six-speed manual or six-speed automatic transmission. A handy 422Nm of torque is available from 1,800rpm to 2,500rpm.
Though it's no sports car, the Sorento manages the 0-60mph sprint in a pretty impressive 9.2 seconds. It goes on to hit a top speed of 118mph. Inside, of course, there's seating for seven people. There's also a handy 1,525 litres of cargo capacity once you've folded the seats down. If you're carrying a full load of seven passengers, the luggage capacity drops to 111 litres.
With an overall length of less than 4.7 metres and at just 1.885 metres in width, the Sorento is unlikely to offer seating for nine. Though the Sorento is attractive for a large SUV, it still lacks the futuristic looks of the KV7.
On the other hand, concept cars are generally not restricted by the same real-world limitations as production vehicles. We'll have to wait for the production KV7 to appear before we can decide, however.
Kia has another option for UK motorists who need seven seats. The Carens, which has been around for a while, is due for its own refresh. Despite its practicality in terms of both size and cost, the Carens has never been the most beautiful of vehicles, but new models are quite cheap at around £14,000. A new version of the Kia Carens is due next year.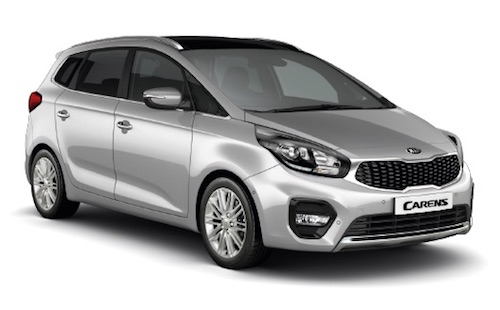 Kia Carens pictured above.
If Britain can't have the KV7, let's hope the new Carens gives UK motorists at least some of the design panache of Kia's latest concept. In the meantime, the 2011 Carens remains a solid option for anyone in the UK who is shopping for a cost-effective way to move seven people without resorting to the size and cost of a full SUV.
Original Kia Sedona pictured above.
The seven-seat Carens is only available with a 1.6-litre four-cylinder diesel engine. This comes with a six-speed manual gearbox – there is no automatic transmission available. On-the-road, it comes in around at around 7,600 less than the cheapest Sorento with the same number of seats. This means the Carens has to be a serious contender for anybody not wedded to the idea of tooling around in a mock SUV.
The Daddy of all 7 seat MPVs is the Kia Sedona. It is a full sized seven seat MPV. Available from about £20,000 with sliding doors and lots of extra features including a rear view parking camera, blue tooth and 45mpg fuel economy. All seven seats are removable allowing you to configure the layout as you wish.
.more...