LA Hybrid Car Rental
LA based MPG Car Rental is taking a new approach to its business by offering green cars to renters. It is committed to environmental issues and is the only company in Los Angeles today that is fully sustainable and focused on renting only eco cars.
As a result, it has recently followed Interbrand's 'Best Global Green Brands' list of green cars and is proud to offer eco cars on the list. This is great news for Venice, California, which is an extremely eco-friendly area.
Brand Image and Sustainability
Interbrand's list ranks companies based on a brand's image as well as actual level of sustainability. Interbrand's Global CEO Jez Frampton explains that it's not just what a brand does, but how the public perceives them. Many of the most famed imported car manufacturers were placed at the top of the list, including Toyota, Lexus, Honda and Volkswagen. MPG Car Rental's fleet features several of these models.
In an interview with Jez Frampton conducted by Deloitte Touche Tohnatsu Limited's Global Sustainability Leader David Pearson, Mr Frampton discussed why focusing on sustainability strengthens successful businesses even more. He noted that consumers today are more passionate than in the past in regards to eco-consumerism.
Green Cars For Hire
MPG Car Rental is passionate about this as well, and as a result, has filled a niche in the car rental market by providing green cars. Its coastal LA clientele are quite environmentally friendly, and the rental company has developed a good relationship with them.

MPG Car Rental picture above.
Toyota was praised for developing the Prius 7-seater and for having a landfill status close to zero. In the interview David Pearson also mentioned innovation. Car manufacturers have to develop new ways of, not only manufacturing vehicles but also using cleaner fuels in its operations.
Only the Best
MPG Car Rental looks at vehicles that follow in this direction and constantly updates its fleet with the best green cars on the market. It offers vehicles that have a broad range of capabilities that would suit any renter's needs.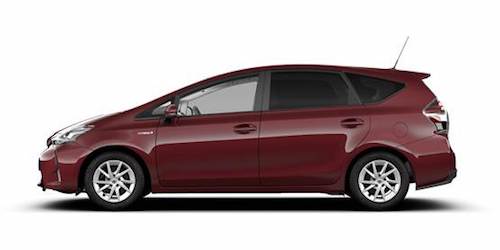 Toyota Prius Plus pictured above.
If you ever travel to the Los Angeles area and are looking for an eco hire car, then head to MPG Car Rental. Many of the green cars mentioned in Interbrand's Best Global Green Brand list are found in its fleet, including the Prius 7-seater, the Toyota Highlander Hybrid, the Honda Insight, the Lexus RX, the Lexus CX and the Volkswagen Jetta. Also recently added to MPG Car Rental's fleet is the Chevy Volt electric car, which is a great choice for the green-minded renter.
Prices are Low too
Rates at this sustainable company are lower than those of most well-known national chains, and a representative of the company will pick you up on arrival and drop you off when you are finished with the vehicle.
.more...