Peugeot 4007
The Peugeot 4007 is a unique collaboration between Peugeot, their sister company Citroen and Japanese manufacturer Mitsubishi to create a 4x4 7 seater car.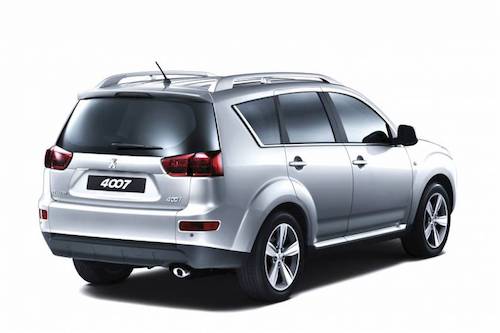 Peugeot 4007 pictured above.
The 4007 is built by Mitsubishi and based on their hugely popular Outlander 4x4 model, with Peugeot providing the engine and styling. The Citroen C-Crosser is also very similar. Although this amalgamation of designs does produce a very high quality car, the slightly strange front end may put off some buyers.
Purchase Price
This 4WD is now only available second hand but you can get some pretty newish models for around £25,000. Older versions can cost below £8,000.
Servicing and MOT
Servicing a 4007 needs to be undertaken either every 2 years or 12,000 miles, with a service costing upwards of £90. Prices do vary nationally, though, so check with local garages. Any local garage can carry out an MOT for around £50.
Emissions (Co2)
The emissions are dictated by the transmission in the car. The highly efficient 2.2 HDi engine with an automatic transmission churns out around 192g/km of CO2 while the manual transmission only emits 185g/km of C02.
Car Tax (VED)
The lower emission manual transmission is placed into Band I. The automatic transmission model is placed in the next band up, Band J.
Miles Per Gallon (MPG)
Along with having lower emissions, the manual transmission versions are also more economical than their automatic counterparts. The manual will offer a highly efficient 40mpg combined, while the automatic models lag slightly behind by only offering 38mpg combined.
Additional Features
The 4007 comes with a generous standard trim which includes safety features such as ABS, driver's, passenger's and side air bags, Isofix points, power assisted steering and cruise control. Standard models also feature comforts such as a CD player, climate control, cruise control, folding rear seats, heated mirrors, front fog lights and remote locking. On upgraded models, leather trim, parking sensors, heated seats and an electric driver's seat are also available.
Performance
This 4WD gives a surprisingly good performance for a car of it's size and economy. Manual transmission models will reach 60mph in between 9.6s and 10.6s depending on the exact specification, while automatic versions are not that far behind by reaching 60mph in 12.1s. The top speed across the range is around 124mph.
Insurance
Despite it's good economy, the sheer size still makes it an expensive option to insure, with all models being placed into insurance group 15.
Third Row Seats
Space-wise this vehicle is a bit hit-and-miss. Certainly, the third row of seats are fine for children, but putting adults all the way at the back is not ideal as the knee room is lacking. However, with this row folded into the floor, it creates a huge amount of cargo space in the back, and the level of comfort for passengers in the first and second rows is excellent. Up at the front, the dashboard is elegant and clearly laid out, and the driving position is high and gives great visibility.
The 4007 is also perfect for long journeys, as it handles excellently on the road and is a brilliant motorway cruiser.
The 4007 is manufactured by Peugeot Motor Company plc: www.peugeot.co.uk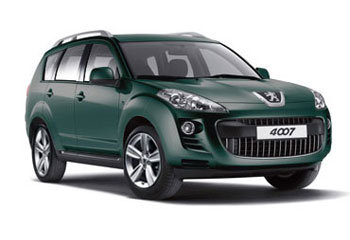 Peugeot 4007 pictured above.
Conclusion
Despite being a relatively expensive option compared to other similar cars, the Peugeot 4007 is still relatively economical thanks to its highly efficient engine, low emissions and great standard trim. It is a solid 'soft-roader' that looks and plays the part.
.more...