Renault Espace
The Renault Espace MPV is one of the more well-known and instantly recognisable 7-seater cars in Britain today. It is frequently claimed that Renault was the first mass market MPV manufacturer, with the first Espace dating back to 1984. Although there were some vehicles with over five seats available before Renault started developing the concept, it is certainly true that the Espace is part of a highly popular range of people carriers that have always sold in large quantities. This vehicle is now only available second hand.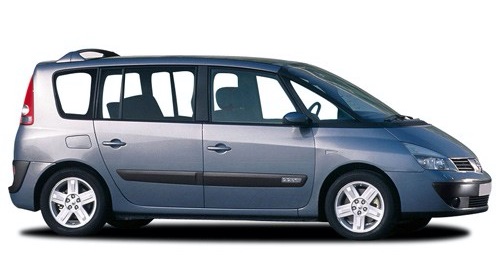 Renault Espace pictured above.
It is one of the roomiest seven seat vehicles on the market, manufactured as a quality, dependable and above all family friendly MPV.
Purchase Price
Newer models cost around £30,000. It is the more expensive option to the smaller Grand Scenic option. Second hand prices start at about £1,000.
Running Costs
Fully servicing currently costs around £195; or £230 for a full service plus MOT. An interim service currently costs around £130; or £165 for an interim service plus MOT. A MOT with a one-year guarantee costs around £59; a MOT with a three-year guarantee is around £119. These prices were checked online at a major, national car service center at the time of writing. It is advisable to confirm exact prices with your local car service provider when planning a service or MOT.
CO2 Emissions
The Espace is one of the more highly CO2 emitting 7-seater vehicles. Whereas Renault has introduced a green range with its Grand Scenic Eco2 Version, the Espace remains in some ways a traditional type of MPV. Its CO2 emissions measure between 196g/km and 248g/km. Passenger vehicles emitting in excess of 200g/km are at the top range of CO2 emitters.
Car Tax Band (VED)
As determined by its CO2 emissions, the Espace falls within car tax bands J and M.
Miles Per Gallon (MPG)
The 2.0 Dci 150 Team 5dr Espace does 30.7 urban miles per gallon. The extra urban cycle is 41.1 miles/gallon and combined is 38.2 miles/gallon. The 3.0 Dci Initiale 5dr 6 speed Automatic Espace does a less economical 23.5 urban miles per gallon. The extra urban cycle is 37.2 miles/gallon and combined is 30.1 miles per gallon. The fuel tank capacity is 83 litres.
Performance
The longer wheelbase version of the popular Espace received an upgrade a couple of years ago, but, as with other recent versions of this popular passenger vehicle, Renault saw fit to make only minor adjustments. The two-litre engine versions made available were the biggest changes. There are now 148 and 173 break horsepower versions providing improved fuel economy on older models. The least powerful of the two manages a more-than-respectable 43.5 mpg, averaged out over urban and motorway driving, while the 173bhp does 39.2 mpg.
Spaciousness
Inside things haven't changed much over the years, which is altogether a good thing. There is still plenty of space for all seven passengers, and all of the seats slide and tilt, while the second and third rows conveniently fold or are removed completely to create bucket loads of cargo space.
Additional Features
Extras include roof bars, tinted windows, a tow bar, an electronic alarm, customised seat covers, a small fridge and an aluminum boot box with collapsible compartments.
Safety Features
Safety features include an anti-lock braking system (ABS), directional headlights, airbags, an electronic stability programme (ESP) and a highly sophisticated reinforced car structure with programmed impact zones. In terms of safety, this is a vehicle that is difficult to beat, having scored top marks in European crash tests, making it a winner as a family transporter.
Top Speed
The Renault Grand Espace achieves zero to 62 miles per hour in around 12 seconds. Its maximum cruising speed is around 120 miles per hour.
Insurance
Most Renault Grand Espace models fall within insurance group eleven. But as there are different engine sizes available insurance categories range from 9 to 18.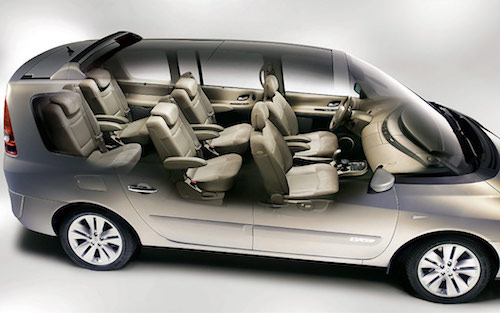 Renault Espace seating view pictured above.
In all, the Renault Grand Espace provides a comfortable, dependable mode of transport for you and your family or friends; with plenty of space available for your luggage.
Conclusion
Many other similar MPVs have joined the Renault Grand Espace in the market over the past five years or so, meaning it is not always the default choice. This is certainly true when it comes to drive quality. Judged purely on cabin space, safety and what you get for your money – surely the test of the best 7-seaters – the Espace remains hard to beat. Looks-wise, the Renault Grand Espace is slightly sleeker, part of a slow evolution that becomes much more evident when compared to what this vehicle looked like a decade ago.
.more...