SEAT Reveal Exeo & Exeo ST
Spanish car maker SEAT has recently unveiled the Exeo, a budget-friendly Audi A4 alternative. The 2.0 litre TDI emits 117g/km of CO2 and is offered in a 120 and 143hp model.
This means that the auto maker (SEAT) now has three models that emit less than 120g/km of CO2 - the two Exeo's as well as the Exeo ST, which holds the same 62.8mpg fuel efficiency. The introduction of these new models shows how the automotive industry is increasingly making decisions based on efficiency and eco ratings.
Eco Vehicles From SEAT
SEAT's new green cars will start making an appearance on UK roads this autumn and, along with the all-new Leon, they are expected to draw in heaps of new business to its dealers. This is a big thing for the Spanish division of VW, as it has had a long and bumpy ride this far.
SEAT EXEO - based on Audi A4
The original Audi A4 has perhaps been around longer than it should have, so the new green car is an extremely clever way for SEAT to bring this popular model up to date. The Exeo is based on the A4, which was first introduced in 2001. It has now been redesigned to be a fuel efficient green car thanks to its engine technology, although the vehicle's roots are the same. In 2001 the A4 emitted 152g/km of CO2 and averaged 50.4mpg, while today it is an impressive Euro 5 Eco Car rating.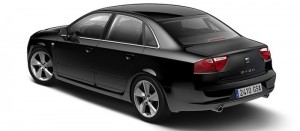 SEAT Exeo pictured above
A4 Performance Improvement
The original A4 had a 1.9 TDI engine, which today has been refined to a 2.0-litre TDI that delivers a smoother, more powerful ride. The older engine was known to have a turbo lag-surge, while the new engine pulls down swiftly so it doesn't feel strangled. This, plus the boost in efficiency, makes it an impressive eco car.
In 2001, technology such as engine stop-start, engine recovery systems, lowered suspension and low rolling resistant tyres didn't exist. These things combined make a significant difference today when it comes to saving energy, and are a great example of how much the automotive industry has evolved. Today, we can purchase a car for less than the 2001 Audi A4, and it will be cleaner, more economical, more refined and smoother to drive.
Fancy Swopping an Engine or Two?
As industry standards across the globe are improving, there is huge potential for keeping popular cars but swapping the drivetrain. If you have an Audi A4 that is still in super condition, why not upgrade to a green car by changing the engine and gearbox to match the one used in the Exeo?
The same can be done for a Golf Mk5 by swapping the engine to the Golf 6 BlueMotion to enjoy low CO2 emissions of 99g/km. Owners of a BMW 3 series vehicle can go the same route by changing the engine to a newer Efficient Dynamics diesel engine.
Vehicle Reconditioning
A business could flourish on the reconditioning of cars alone. With standardisation throughout the whole industry, worn engines can be refreshed and recycled into green engines. Although this may not be realistic it does illustrate a point, as does the new Exeo Ecomotive launched by SEAT. It isn't cutting-edge inventions and new sleek designs that have the greatest potential for going eco, it is improving what is already out there, as everyone will benefit as a result.
.more...