Snow Driving
Drive Safely in your Seven Seater
Winter can breen snow, freezing rains and Arctic temperatures. Several times in Winter, thousands of travellers have found themselves stranded at British airports, on railway trains and even on blocked motorways. Notwithstanding the slips and slides that happen due to black ice.
Driving your seven seater in winter is always a risky business and with the unusually severe conditions this year, the risks are as great as ever. But there are steps all drivers can take to minimise the chances of their ending up stuck outside for long periods. Also, as many families are setting out on holiday trips throughout the United Kingdom, it is important to ensure your family is equipped to deal with any unforeseen circumstances while away from home.
Check the Travel News
The first thing you can do is make sure to check the weather and road conditions, as well as the weather forecasts. These days, you have a range of options for keeping up to date with the latest news and forecasts.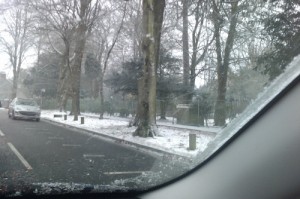 Many motoring organizations provide SMS updates and, with smartphones, it's a simple matter to check maps and news updates. While still at home, you can easily turn to Google Maps or similar services for the latest traffic conditions.
Make Sure your Car is in Top Condition
It is important to make sure your car is in top condition. Before winter even arrives, you should make sure your engine coolant is topped up and, if necessary, replaced using fresh antifreeze in the correct ratio. Make sure all of your car's lights are in good order and always carry a set of replacement bulbs in the car. Clean the windscreen and try modern glass treatments that make it harder for rain, snow and dirt to stick to the windscreen.
Battery Ok?
Have your car's battery tested to make sure it is in good health. If necessary, now is a good time to replace the battery. Check the inflation guidance for your car tyres. Make sure they're properly inflated and in good condition. Always check the spare tyre, too. Make sure your car's jack and tools are in place and in good condition.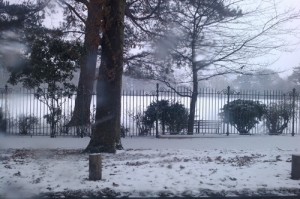 Carry an Emergency Kit
It is an excellent idea, especially in winter, to carry an emergency kit in the car. This should include both an ice scraper and de-icer spray. You should have at least one quality torch with spare batteries. Carry a supply of warm clothes and blankets. A first aid kit is a good idea as are good quality jumper cables.
Just in Case
Pack spare food and warm drinks in a thermos and bring a shovel that fits in the boot. A reflective warning sign and jacket should be carried in the car's cabin. This is a legal requirement if you're heading to France.
Mobile Phone
Make sure you have at least one mobile phone and make sure it is fully-charged. A portable GPS unit is a good idea but don't stray too far from main roads in severe conditions even if the GPS map shows a back-road shortcut. Even if the map is accurate, heavy snowfall can make smaller roads impassable.
Dipped Beams
When driving in the winter, modify your driving style as appropriate. During heavy snowfalls, try dipped beams to avoid excessive glare. Fog lamps can be very useful in such conditions but only if they are fitted correctly. If you turn on your rear fog lamp make sure you switch it off after conditions improve.
Below -7 Degrees is Trouble
If temperatures drop below -7°C, be extra careful as road grit stops working at such low temperatures. Watch out for ice wherever the road elevation changes or becomes more exposed. Beware of changing road conditions where the road passes under a bridge or is shaded by trees. If a road sees little traffic, it may be more slippery.
Similar Topics