Volkswagen Sharan
Popular 7 Seat MPV
The Volkswagen Sharan is a popular multi-purpose vehicle (MPV) with seven seats produced by the German carmaker Volkswagen.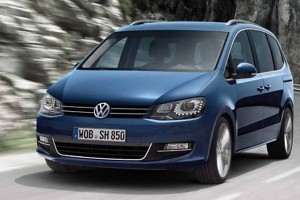 Volkswagen Sharan pictured above.
The Sharan has been in production since the mid 1990s, having undergone various transformations and improvements in that time. The latest incarnation was officially launched during the 2010 Geneva Motor Show. Since it first appeared back in 1995, from rather pedestrian origins that were too strongly linked with jokes about Essex, it has blossomed into a fine choice for motorists seeking a large, spacious SUV.
Purchase Price
Prices for the basic SE model are upwards of £25,000. Buying a Sharan is therefore a cheaper option to the slightly larger Caravelle. Second hand prices range between £5,000 and £36,000 for top of the range nearly new models.
Servicing Costs
In terms of car service and MOT, costs around £195 to service fully. An MOT plus full service costs around £230. An interim service costs around £130 (£165 for an interim service plus MOT). A MOT with a one-year guarantee costs £ a MOT with a three-year guarantee costs £119. These prices are subject to change over time, and may diverge when the new Volkswagen Sharan enters the market.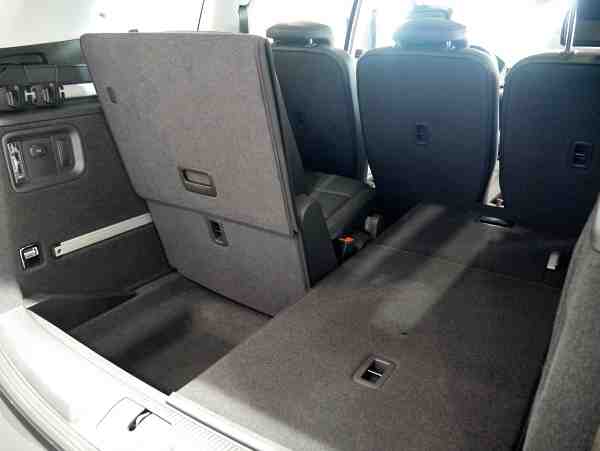 Volkswagen Sharan boot space pictured above.
C02 Emissions
In terms of CO2 emissions, the Sharan is relatively greener than the Caravelle. The latter has a CO2 emissions rate of between 199g/km and 216 g/km. This compares with a CO2 emissions rate of between 146g/km and 191g/km for the Sharan.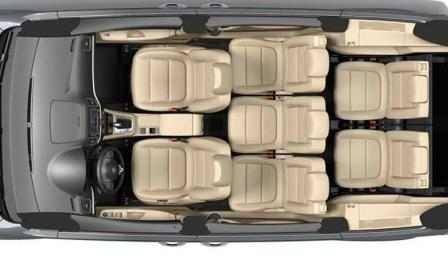 Volkswagen Sharan seating (birdseye) pictured above.
Car Tax (VED)
In terms of Car Tax bands (VED), most Sharan models fall within bands F, G and H, with only the SEL TSI DSG model higher up in the bands (J).
Miles Per Gallon (MPG)
The petrol engine have an urban miles per gallon cycle of 30.7. The extra urban miles per gallon cycle for the petrol engine models is 46.3. The combined cycle is 39.2mpg. For the diesel engine, the urban MPG cycle is 40.6; extra urban is 57.6mpg and combined is 50.4mpg.
Additional Features
Factory fitted options available include alloy wheels, cruise control, luggage nets, panoramic sunroofs, heat insulating tinted glass, front fog lights, a RNS 315 touch screen navigation and radio system, electronic parking assistance and leather upholstery.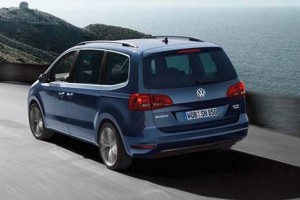 Volkswagen Sharan pictured above.
Safety Features
Safety features include an Anti-lock braking system (ABS), automatic door locking, airbags for the driver and passengers, child locks, high level third break light, front door reflectors and an electronic stabilisation programme (ESP).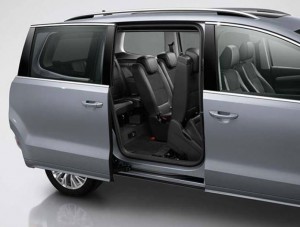 Volkswagen Sharan (side sliding door) pictured above.
Performance
The VW Sharan achieves 0-62 miles per hour in typically around 10.9 seconds. Its top speed is around 120 miles per hour. Most Sharan models fall within insurance groups 11 and 12. The higher emitting diesel models fall within insurance group 15. It is now available with an incredible range of engines. Buyers can choose from a 1.4-litre BlueMotion TSI petrol engine producing 150 horsepower and a BlueMotion 2.0 diesel generating 115 horsepower for less than £30,000. At the top of the range, sits a pair of engines – diesel or petrol – that come with plenty of power, as well as six-speed DSG automatic transmissions. The mid-range models provide a selection of four other power plants.
Conclusion
The new Sharan is likely to be one of the more popular People Carriers to transport family or friends, thus continuing its already trusted and mass appeal. The Sharan is very similar to the Ford Galaxy and Seat Alhambra. This people carrier is a sleek vehicle and looks pretty good for what it is, which is a big people mover with plenty of room in the cabin. Even in its earliest incarnations, it was better looking than most competitors, despite those Essex jokes? Well, it didn't help that the car's name, Sharan sounded too much like a rather stereotypical name for women from the Southeast's most infamous county. Today, however, the VW Sharan makes a fine choice for anybody who needs seven seats. The external styling is much more strongly linked to other vehicles from the German automaker and the quality of the vehicle has been upgraded substantially.
.more...