Chrysler Grand Voyager
Grand Voyager is a 7-seat family wonder, there is ample room for everyone in the Voyager even when all seven seats are occupied. The flexible seating arrangement allows the rear seats to swivel with a utility table to keep the children securely belted in and entertained.
The Grand Voyager is now only available second hand (since 2015).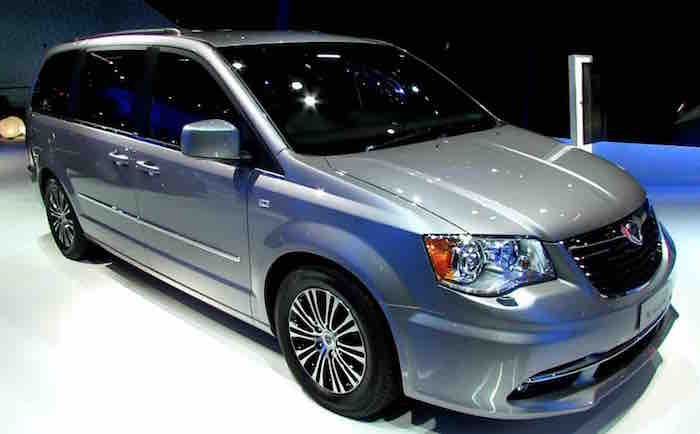 Chrysler Grand Voyager pictured above
The Chrysler Grand Voyager is a more square styled car than the traditional curvaceous lines you would normally expect from a Chrysler. The Grand Voyager offers excellent access with wide front and rear doors and an easy to use rear tailgate. This large 7-seat MPV also has sliding doors.
Cost
Nearly new prices start from £20,000 but you could pick up one a few years old for as little as £2,000.00.
Running costs
Servicing the Chrysler Voyager is recommended every 10,000 miles or twelve months.
Co2 Emissions
Rate of emissions are quoted in Chrysler manuals as 247 g/kg of Co2, which is considered a little higher than the desired level for most family cars.
Car Tax
The Car Tax Band averages around level J. Drivers can be expected to pay out just under £300.
Miles Per Gallon
Due to the size of the Grand Voyager the fuel efficiency is poor. You will be lucky to achieve over 30 miles to the gallon. Not much research has gone into improving this either. The Grand Voyager replacement (the Pacifica) boasts 28 miles to the Gallon. The Chrysler Pacifica is only available in America. I'm not sure how well received it would be in this country (UK) when it does less than 30 to the gallon!
Design and Quality Features
The internal design is utilitarian chic, easy to clean and maintain. In some models it is beautifully finished in natural wood and suede and can come equipped with plenty of gadgets and storage space. Some Grand Voyagers even have in-built, pull down, duel screen DVD players, GPS, and five centrally linked headphones.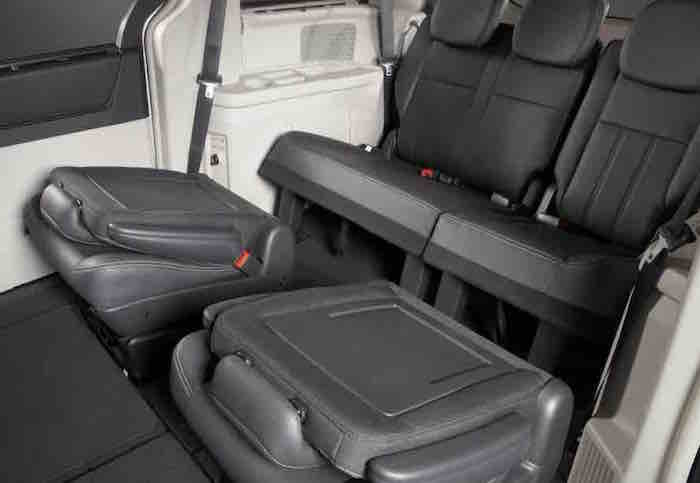 Chrysler Grand Voyager pictured above.
There is the added functionality of swivel seats. The cabin becomes an enjoyable place for family journeys as occupants can face each other. This large American car is popular amongst us Brits, not only because of it's sliding doors but also because of the comfortable seats and design qualities. The seven seat configuration is 2/2/3 rather than the usual 2/3/2 set up.
Dimensions
The Grand Voyager is 5.21 metres long, 1.75 metres high and 1.99 metres wide.
Boot Capacity
With all seven seats upright the Grand Voyager boot space is a generous 756 cubic litres. If you fold the third row and second row down (or take the seats out) you get yourself a van.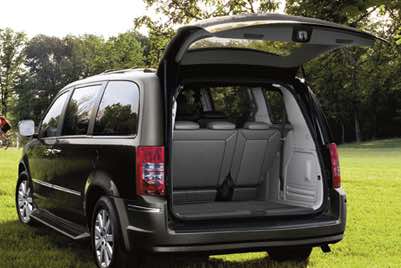 Chrysler Grand Voyager Seating above - 3 seats in third row.
Safety
The Voyager incorporates a host of safety devices to keep the driver and passengers safe. There is a parking pilot, reversing camera, duel front airbags, seat-mounted airbags (rear) and side impact bags. It has ABS with anti-lock brakes and ESP.
The front airbags inflate in stages and the side airbags extend back past all three rows of seating. In the front row there are shoulder and chest level airbags.
The ParkSense System includes a camera that gives a view of what lies to the rear whilst reverse parking.
Engine Choices
There are many Grand Voyager engine variations available, namely; a 2.8 litre LX diesel automatic, a Touring and Limited diesel automatic and a 3.8 V6 petrol automatic to name but a few. The Grand Voyager is front wheel drive with a six speed automatic gear box.
The powerful 3.6-litre petrol engine packs an impressive 283-horse power, while the 2.8-litre diesel version generates 163 horsepower. This is justified when you consider its size.
Performance
Manufacturer tests quote the Grand Voyager a 12.8 second 0-60 mph acceleration speed for diesel engines and 12.6 second acceleration for the 3.8L petrol engine.
Exterior Paintwork
The basic standard colour is a strong white clear coat but you can also choose from black, grey, silver blue and sandstone in either metallic or pearl finishes. Black and Silver are by far the most popular choice.
Electronically Controlled Third Row Seating
In newer models of the Grand Voyager the third row seats magically appear and disappear at the touch of a button.
Conclusion
The overall feel for the Grand Voyager is that of an excellently conceived and designed people carrier. It has a stylish interior with plenty of storage and passenger space.
Chrysler upped its game with newer versions of the Voyager. Looks-wise the Grand Voyager features a redesigned front end with wraparound bumpers, bigger headlights and new roof bars that re-establish this popular vehicle at the upper end of the market.
.more...