Dacia 7-Seater 2012
Another automaker that recently announced a fresh attack on the seven-seat market is Romanian marque Dacia. For decades, Dacia was infamous for churning out a series of cheap, uninteresting and rather pathetic vehicles from the wrong side of the Iron Curtain.
Since its acquisition by Renault in 1999, Dacia has increasingly played a central role in the French carmaker's production strategy in central and eastern Europe.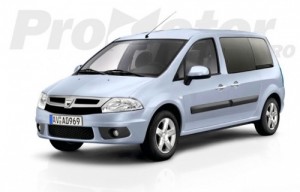 The recent Dacia Duster received considerable praise from reviewers in the West for the SUV's no-nonsense and capable approach to basic off-road motoring. The Duster has been available to European drivers since early last year.
This week, Dacia announced a new seven-seat MPV for 2012. Though only known by the moniker J92 at the moment, industry analysts expect it to be launched into the market as the Popster.
The Popster is likely to go up against European competitors like the Grand Ford C-Max, the Vauxhall Zafira, the Renault Scenic Grand and the Citroen C4 Picasso. The new Dacia MPV is slated to be 4.5 metres long and will carry seven people across three rows of seats.
The Dacia Popster is expected to appear next year and should be priced at less than €15,000. If it can come in at that price level, it should offer give a nice injection of vitality to the market for affordable seven-seaters.
.more...