Nissan Cube 3
The Cube has been on the market since the early 2000s, but only 'grey' importers allowed people in the UK to get hold of one. The Nissan Cube based on the Micra, the Note and the Renault Clio platform, which instantly gives you an idea of its size. The first thing to say about the Nissan Cube 7-Seater is the body is quite unlike anything you've ever seen before. It is square, yet also curvy, and compact but with a fair amount of space, which is mostly due to its sheer rear.
It looks like the geekiest vehicle on the planet for that first split second until you realise just how cool it really is, especially in its trademark bright, metallic colours. But it didn't always used to be this way. The first generation Cube produced between 1998 and 2002, and only available in Japan, looked more or less like a Micra.
Purchase Price
Finding this car for sale in Britain is difficult. I found a second hand one for approximately £5,000. It had 70K miles on the clock and was described as in mint condition. It was a 2010 registration and sold with a warranty. This was via Ebay Motors.
Running Costs
The CVT box is said to add to the mpg score and takes it up to 40mpg from the 37mpg limit of the manual gearbox. This Mini Seven Seater only pumps out 149g/km of CO2 and falls into Car Tax Bracket F. This is average for a regular car let alone a seven-seater.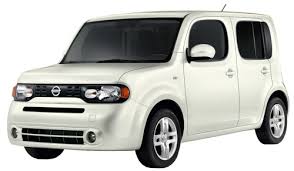 Nissan Cube pictured above.
Strong Admirers and Avid Detractors
It's not called a Cube for nothing. Placed squarely in the mini MPV market, the Cube is a boxy little five-seater or seven-seater with many times more personality than vehicles double its size. Like most things with a lot of personality, the Cube has both strong admirers and avid detractors. Dubbed cool by certain corners of the press, the Nissan Cube has been called by others a sub-standard drive. It's true to say you're either going to love it or hate it.
Cubed (Square) Appearance
Some of the previous generation's looks have been diluted in the revamp but the Cube3 is still completely different looking compared to the myriad of Euro-boxes on the road today. The squared-off rump, the flat nose and the smoothed waistline give the Cube something completely unique.
Boot Space
There are seven-seater Cubes available, called Cube3, which stuff two small seats in the boot space, which are only good enough for small kids. Boot space is therefore minimal when the seats are in place, but all of the rearward seats are removable if you decide to use the Cube for load-lugging tasks.
Performance
There is a thrummy-1.6-litre four-cylinder engine under the bonnet, which despite the 1,265kg kerb weight manages to whisk the Cube along quite briskly. The 0-60 time comes up in a little over 11 seconds and with 113lb-ft of torque, it just about manages to carry seven and a few small bags.
Gadgets Galore!
The Nissan Cube is fun to drive, it looks great and it has disc brakes all round, so it stops well too. The funkiness continues inside the cabin, where the swoopy dashboard, iPod docking station, MP3 USB port and other gadgets are on display. Feel free to crank up the music if you're going on a long journey as that four-pot motor can get a little stretched at motorway speeds.
Seating and Handling
The seating and handling are great. Both giving good feedback through the seat of your trousers, and with Nissan taking part in more and more motorsport events, the handling and suspension are tweaked to such a level that inspires confidence.
Nissan Cube pictured above.
The Cube3 is mostly going to be used in cities and towns, where it manages to twist the necks of pedestrians who are shocked at such a weird and wonderful looking car.
Conclusion
At under £8,000, it is a cheap mini-MPVs and it does have that 'X' factor that other cars in this field simply can't match. Those looks, the odd shape and the brave design simply blow the Nissan Note or the Qashqai out of the water. It's just a shame Nissan seems to try and steal its own customers from itself. Availability in this country is really limited so if you do find a Cube3 Seven Seater your one of the lucky ones. Drive-wise it is certainly unusual and better placed for urban driving, and parking, than it is for taking out the open road. It's very safe and has ample storage in the back, plus there are cool features like a shag carpet for a dashboard pad. It's also very reasonably priced. It may not do it for everyone, but the Nissan Cube is certainly an eye-catching vehicle that offers plenty of pluses and personality.
.more...