Volkswagen Bigger & Cheaper 7‐Seaters
At the moment, it appears destined only for the US market, but Volkswagen says it is considering launching a new seven seater. The German automaker recently re-iterated its goal of becoming the world's leading producer of automobiles and says a bigger, cheaper SUV with room for seven people could be a key part of the strategy intended to fulfill the firm's aspirations.
Jonathan Browning, head of VW's US operations, divulged the fact the company is considering a new seven seater during a recent announcement. Browning, who is CEO of Volkswagen of America, said the company plans to widen its range of products and that could well mean a new, cheaper SUV with three rows of seats and room for seven coming to the market, in the USA at least.
Touareg 5-Seats
Volkswagen already has a couple of SUVs. The Touareg, (5 Seats), which started off as a rather imperfect big , has succeeded through later iterations to become a worthwhile large soft-roader, albeit on the expensive side (certainly for a VW) and it lacks seven seats.
Tiguan 5-Seats
The smaller, more affordable Tiguan (5 Seats) is popular but that is a compact car that cannot offer full SUV service. According to Browning, VW is seriously considering developing a new model that would give American customers the modern Volkswagen experience, along with more seats and a lower price.
Will this be a stretched Tuareg? Industry analysts say that's an unlikely move and some inside sources appear to confirm that verdict.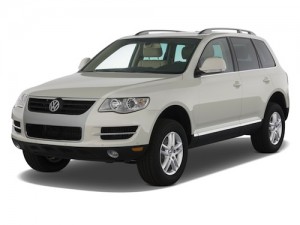 The above features the Touareg 5-Seat MPV.
Certainly, Volkswagen is going to need to find a way to ramp up its sales by a big margin to have any chance at cracking the leading position in the global auto industry. Detroit's General Motors recently regained that spot, thanks in great part to the Japanese earthquake's terrible effect on Japan's industrial output.
Toyota has also done itself no favours in recent years, as quality control issues caught up with the now former number-one, hammering public perceptions of Toyota's once solid reputation for well-built automobiles. The top carmakers in August, based on sales, were General Motors, Ford, Fiat-Chrysler and Toyota.
Volkswagen is doing extremely well in China, however, where it led the USA's GM, Japan's Nissan and South Korea's Hyundai in terms of sales in August. Should that trend continue while VW gathers increased market share in the USA, the German company could be very well-placed to compete for the global top spot.
Unfortunately, the Chinese automobile market is currently focused on sales of luxury brands and larger mid-sized saloons. Despite the ever-worrying environmental effects of such a large population suddenly moving from bicycles to automobiles, there is little interest there to spend so much money on hybrid vehicles.
China also has a long history of struggling with over-population, most graphically illustrated by the old one-family, one-child policy enacted in the past. Perennial concerns about crowded cities and the tradition towards small families mean VW will probably focus on the USA for sales of seven-seat vehicles.
Sales of three-row vehicles are very strong in the USA, giving VW a solid reason for wanting to go that direction with its product range. Browning did confirm that if the company brings out a new SUV, it will not cost more than the Tuareg, which should mean the new model should be priced below $45,000, (£28,609.57 British Pounds).
Given that American drivers have a good selection of existing seven-seaters available like Dodge's Durango and Ford's Explorer for less than $30,000, VW will need to work hard on developing something to compete in this sector. Browning himself pointed out the importance of appropriate pricing so the future could well see a seven-seat SUV from VW costing around $10,000 less than the Tuareg.
.more... Volkswagen