Sharan –vs- Alhambra
It operates in a segment of the market that has become increasingly competitive in recent years, but the VW Sharan has held its own. But how does this latest incarnation of its 7-seater compete with the likes of its lower cost rival, the hugely successful SEAT Alhambra?
VW Sharan or SEAT Alhambra: Which is best?
For starters, it's a Volkswagen, an automaker that has made its name in recent years for producing high quality, no frills vehicles at affordable prices. And the new Sharan is no exception to this standard set by the German manufacturer. Although the body would not win any beauty contests, it looks good from the front and most importantly it hides its bulk well. After all, this is a vehicle that features 7 seats with plenty of space, and some 3,000 litres of storage room with the two back rows folded down.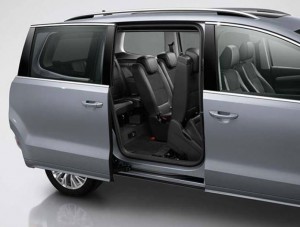 Pictured above is the side view of a Volkswagen Sharan.
MPV with sliding door
The VW Sharan is a no-nonsense MPV from start to finish. The back rows are accessed courtesy of a sliding door with an electric option which is also available for the boot. The sides of the car are dominated by huge windows which are also evident at the back of the car. The Volkswagen Sharan is a sturdy 7-seater that gives a nod to sleek styling, but like most Volkswagens the emphasis is on simple, reliable performance.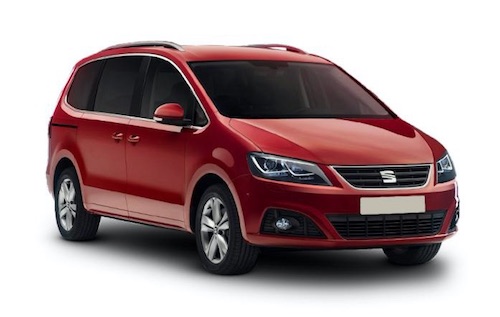 Pictured above is the SEAT Alhambra.
Performance
There is a range of engine sizes in both diesel and petrol versions, but the most popular will almost certainly prove to be the 2.0-litre diesel engine which offers a top speed of 121 miles per hour. It gets from 0 to 60 mph in a bit under 11 seconds, by no means the best in class but still a very respectable bit of accelerating for a car of this size. It also boasts 236 pounds per foot of torque meaning it's certainly not sluggish. Added to this sharp feeling is the highly precise steering which all leads to the impression you are not driving a 7-seater at all.
Fuel Economy
Fuel economy-wise, the Volkswagen Sharan again delivers a decent performance for a big car at 30 miles per gallon. This is helped by features such as Volkswagen's Bluemotion system which combines a stop-start mechanism, revised engine mapping, longer gear ratios and reduce rolling resistance.
Additional Trim Options
Aside from the electrical side doors and boot, there are a number of trim options on the Sharan including the touch-screen navigation system and CD player with stereo, front and rear parking sensors and electric windows. Once these are all factored in then the top of the range Sharan peaks at well over £30,000, a grand or two more than the equivalent Alhambra.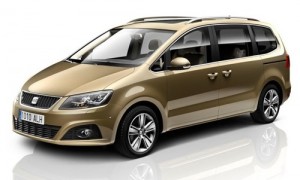 Pictured above is the SEAT Alhambra (from 2012).
VW has less depreciation costs
Fans of the Alhambra and Sharan will no doubt defend each to the death, such are the followings they have generated in recent years. One critical factor is the extent to which each vehicle depreciates in value – this is where the Volkswagen fares better than the Seat due to its reputation for a robust, reliable drive. Apart from that there is little to separate these vehicles. This new version of the Sharan is as impressive as you would expect, and then some.
.more...