American 7-Seaters
The seven seater sector continues to expand, with recent announcements by several automakers that they are launching new seven-seat models.
Chrysler Revives Grand Wagoner in USA
Perhaps one of the most exciting announcements, at least for US drivers, is the recent news that Chrysler is to revive the classic Grand Wagoneer label. The new Jeep model will bring back memories of one of North America's greatest truck legends.
In the 1970s, the station wagon (known as the estate in Europe) enjoyed great popularity among ever more mobile families. The Jeep Grand Wagoneer offered motorists a truck-style version of the station wagon.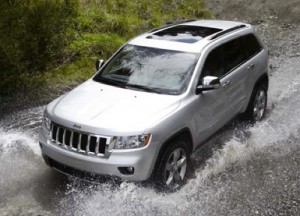 The above demonstrates the 4WD Grand Wagoneer effortlessly driving through deep water.
With its go-anywhere mechanicals, big tailgate and plenty of room inside, the Grand Wagoneer was once a fairly common sight on the roads of America. The OPEC oil crisis, a series of economic recessions and the rise of the people mover, however, eventually led to the relatively utilitarian Grand Wagoneer passing into history.
Recently, however, Chrysler CEO Sergio Marchionne announced plans for the recovering automaker to revive the Grand Wagoneer, at least in name. News reports say the new Grand Wagoneer will appear in 2013.
Based on Dodge Durango & Cherokee
Based on the same platform used for the Dodge Durango and the Jeep Grand Cherokee, the new Grand Wagoneer is scheduled to be an upmarket seven-seat SUV. Unfortunately, Chrysler has yet to issue any further details on the new Grand Wagoneer.
Launched in 1963, Jeep's Grand Wagoneer lasted quite a while despite changing little over the course of its life. The last Grand Wagoneers were sold back in 1991, by which time the model was essentially a luxury model sold primarily to well-heeled buyers.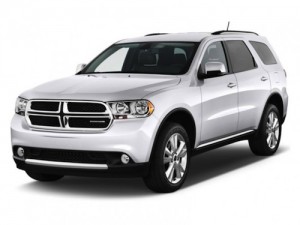 Over its life, the Grand Wagoneer developed a cult following. It also spawned a number of interesting and odd concoctions based on the big mechanicals. American businessman Bill Harrah even had his mechanics create a number of Wagoneer-based sporting trucks.
Nicknamed the 'Jerrari', the exotic vehicles mixed Ferrari mechanicals with the Grand Wagoneer to create a super-SUV reputedly food for 160mph. Though never truly practical, the sound of the Ferrari 12-cylinder engine must have set a few hearts alight.
The Grand Wagoneer will join a Chrysler line-up that already offers a number of seven-seat vehicles. The most recent addition is the 2011 Durango SUV, which arrived in US showrooms late last year.
Though carrying on with an existing model name, the 2011 Durango is an all-new vehicle. Two seven-seat models are available, one with rear-wheel drive and one offering all-wheel drive.
.more...