Infinity JX
Stylish, solid and with a luxurious exterior, the Infiniti JX is a new 7-seater with an excellent range of features. Where this vehicle really scores high marks is on safety, with its host of hi-tech standard additions that, when you think about it, should come with all vehicles geared towards families.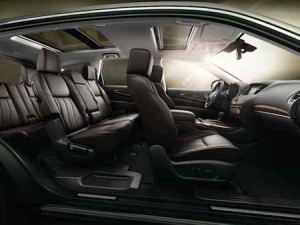 Infinity JX Interior pictured above.
As you may already know the JX will not be available for the UK customer unless you buy one as an import which may cost you a fair penny. As for prices it will cost around $40,000 which equates to around £25,000 British pounds.
Safety
There's a lane departure warning system and intelligent cruise control which utilises lasers, brake actuators and the throttle to precisely gauge the distance between you and the vehicle ahead. The car then adjusts its own speed to keep a safe gap. In addition to these smart features, a blind spot warning system and backup collision intervention all come as standard. As far as 7-seaters go, there aren't many that come safer than this.
Space
And in terms of the space inside, the Infiniti JX does very well. An increasing number of 7-seaters offer a token back bench that is barely suitable for fast-growing teenagers, let alone adults; but not so with this vehicle. Each seat offers plenty of room and there is easy access to the third row, another increasingly unheard of feature of many larger SUVs, as car makers squeeze the margins.
Boot Space
This is achieved with a sliding middle row and wide door openings. Cargo space is both ample and versatile, regardless of whether all the seats are in play or not. The second row can be split, so too can the third row of seats, and even without any of them folded down there is 447 litres of space.
Fuel Efficiency
Although the Inifinti JX is a big car, it certainly punches above its weight when it comes to fuel efficiency. This 7-seater can manage 23 miles per gallon on the motorway and 17 mpg in the city. This is mostly achieved courtesy of a continuously variable transmission that aims to get the best out of the engine at any given moment, with four different modes to choose from – eco, snow, sport and standard.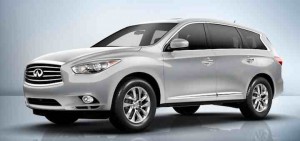 Infinity JX (american MPV) pictured above.
Driving Experience
It's perhaps only in regards to the driving experience where it's possible to find areas for improvement with the Infiniti JX, and even then it requires to critic to be ultra picky. The eco driving mode leaves the vehicle feeling like it's working too hard, especially when filled with passengers, and the size of the car means it feels chunky when driving in the city (although there is an around-view monitor for parking). And while the transmission is undoubtedly an engineering feat, it can get noisy when accelerating hard.
Performance
In terms of engine performance, Infiniti has achieved a good balance between necessary power and fuel economy. The 3.5-litre V-6 engine generates a decent 265 horsepower that almost always feels like more than enough. Overall then, this is a well thought out addition to the 7-seater market that looks functional yet refined and which offers ample space without getting too bloated in the process. It's therefore a worthy addition to Nissan's exclusive Infiniti brand and, although the price is certainly up there, for what you get, this is nothing short of very good value for money.
Infinity is a Nissan Brand. Nissan 7-Seaters available in the United Kingdom include the Qashqai+2, the Cube3, Patrol GR4x4 and the Pathfinder 4x4.
More Articles