BMW X7 with 6 or 7 Seats
This page gives an overview of the BMW X7. It is available as a 6 Seat or 7 Seat vehicle. It falls into the more expensive MPV options but does come with some appealing top of the range specifications.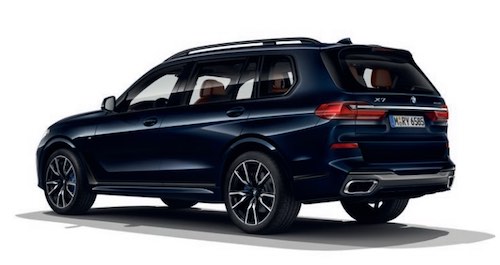 Charismatic BMW Design
The new BMW X7 Sports Activity Vehicle (SAV) gets its charismatic design from the new one-piece kidney grille which has expressive lines that flow elegantly to the eye-catching 3D L-shaped LED taillights.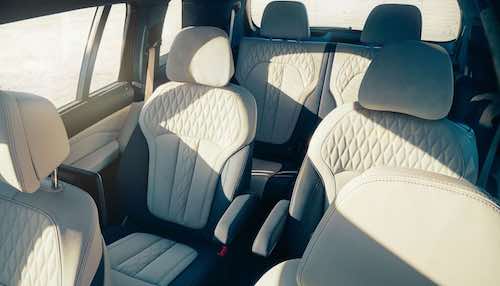 The BMW X7 has a new optional 6‐Seat configuration with two captain-style comfort seats in the second row. The new BMW X7 is available in xDrive30d, xDrive40i M Sport and M50d engine variants. The X7 is a slightly bigger version of the BMW X5 (7‐Seater).
X7 Exterior Equipment
Some of the common exterior equipment features of the BMW X7 include:
An active air stream kidney grille;
High-gloss chrome;
An aluminium running board;
Chrome trims;
Door surrounds;
Exhaust tailpipes – single, left and right;
A chrome finisher;
An expanded exterior mirror package;
Exterior mirror housing;
A choice of body colours;
Grab handles.
Purchase Price
You can opt for one of three BMW X7s. Prices start at £72,155 and go up to over £100,000 when you opt for all the extras as well as the highest specification version. These three models are explained in more detail below.
BMW X7 xDrive30d
The entry model BMW x7 xdrive30d will cost £72,155 and packs 265hp and 620Nm of torque with BMW twin power turbo six-cylinder in-line diesel engine.
Standard features include:
21-inch light alloy Y-spoke wheels;
Merino leather upholstery;
Ambient internal lighting;
High-beam assistant (for the headlights);
BMW live cockpit professional navigation;
BMW gesture control;
BMW display key;
Common-rail technology.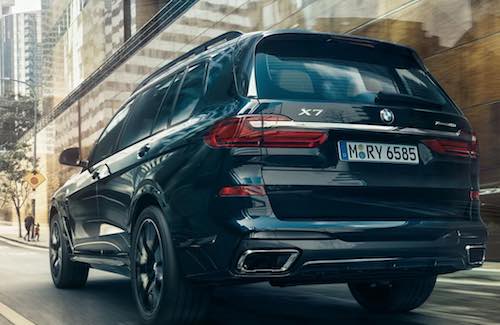 BMW X7 xDrive40i M Sport
The mid range BMW X7 xDrive40i M Sport is £81,155. By spending more you get more than the entry model described above. The Xdrive40i M Sport has 340hp and 450Nm of torque with a BMW twin power turbo inline six-cylinder petrol engine. Additional features include:
21-inch M light alloy double-spoke wheels;
3.0 litre BMW twin power turbo petrol engine;
Arctic grey exterior paint;
M Leather steering wheel;
M-specific pedals;
M-specific key ;
M Sport braking system;
BMW X7 M50d
The Premium performance model (BMW X7 M50d) is £98,160 . It has 400 hp and 760 Nm of torque with a BMW twin power turbo six-cylinder in-line diesel engine. This is the highest spec model and includes the following additional features:
BMW individual 22-inch M V-spoke light alloy wheels;
Rear seat entertainment;
Panoramic glass sky lounge sunroof;
Glass crafted clarity interior elements;
TV function plus;
M50d badge on tailgate;
The cerium grey exterior colour option;
Door sill finishers with an illuminated M50d design;
Front and rear seat ventilation;
Front and rear seat massage function.
All BMW X7s come with the new operating system 7.0 which has the latest digital live technology on a large central display.
The X7 is long and huge in every dimension; it slots above the popular BMW X5 and competes against the Mercedes Benz GLS and Land Rover Discovery.
Co2 levels and Car Tax
As expected each BMW X7 falls into the higher tax brackets due to the higher Co2 emissions. You will also pay more due to the list price being over £40,000.
The BMW X7 xDrive30d diesel engine performance is 195 kw and has C02 emissions of 171 g/km;
The BMW X7 xDrive40i M Sport petrol engine performance is 250 kw and has C02 emissions of 199 g/km;
The BMW X7 M50d diesel engine performance is 294 kw and has C02 emissions of 185 g/km.
As at July 2019, Car Tax for the first year it is £1,280.00 then annually £450 for the three models. Our Car Tax page explains all types of charges you may be liable for.
Fuel Consumption
For all three BMW X7s the miles per gallon range from 25.7 to 40.4. Specifically these are:
BMW X7 xDrive30d is 33.6 mpg & 0-62 mph in 7 seconds;
BMW BMW X7 xDrive40i M Sport is 25.7 mpg & 0-62 mph in 6.1 seconds;
BMW X7 M50d is 40.4 mpg &0-62 mph in 5.4 seconds.
Boot space (all 7-seats up)
The boot capacity in the BMW X7 is 212 litres (rear seats up) and extends up to 750 litres when the backrests of the seats in the second and third rows are folded down.
Dimensions
The BMW X7 is 2000mm wide (2 meters), 1805mm high (1.8 meters) and 5151mm (5.1 meters) long. Without passengers the X7s weight is 2,370 kg (2.4 tonne).
Tyres
The BMW X7 xDrive30d has 753 bicolor / run flat tyres. BMW X7 xDrive40i M Sport has 754 M bicolor / run flat tyres and the BMW X7 M50d has bicolor Cerium grey style 755 M with mixed and run flat tyres.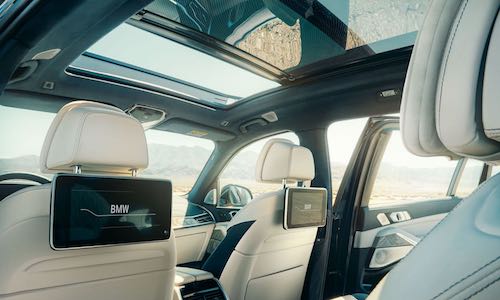 Additional options
Where money is no option and you just want to have everything the xOffroad package will cost £2,595, the premium package £2,750, visibility package £1,350 and technology package £3,250.
Safety Features
The intelligent driving assistant technologies provide support in all driving situations and increase safety and comfort. Safety features of the BMW X7 include:
Reversing assistant;
Crossroads warning with city braking function;
Lane keeping assistant. This has active side collision protection and assists in keeping in lane by actively preventing potential side collisions;
Wrong-way warning detects 'no entry' signs on motorways, roundabouts and one-way roads;
Automatic speed limit assistant combines speed limit information with active cruise control (ACC). This will automaticall reduce the speed of your car (when in cruise control) to the legal speed restricted speed;
BMW laser lights provides a range of up to 600m in high-beam mode;
Other features include the generous ground clearance;
The optional xOffroad package with four off-road settings has underbody sump guard protection.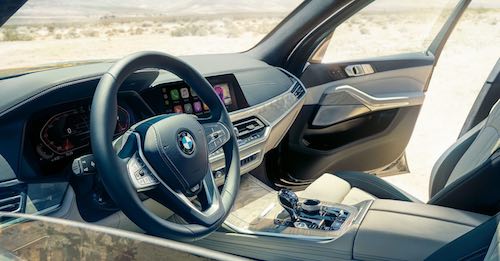 Pictured above is the cockpit of the BMW X7 with cream leather seats.
Colours
The BMW X7 is available in colours like non-metallic 300 alphine white, metallic C1N Sunstone, Metallic C27 Arctic Grey, metallic 475 black sapphire, metallic A96 mineral white, metallic C1M phytonic blue, metallic A90 sophisto grey and metallic 416 carbon black. As outline above if you opted for the BMW X7 xDrive40i M you could have arctic grey exterior paint; paint. The BMW X7 M50d comes with the cerium grey paint.
Warranty and Servicing
When you buy a BMW X7 you can opt for the BMW Service inclusive package. This lasts for three years or 36,000 miles (whichever is sooner). You will be charged monthly (around £30 or £40 for M models). This price will not go up for the entire duration. An added benefit is that each time you bring your car in for a service you will get a free MOT, a wash, an interior vac, all Sat Nav updates and a top up of fluids.
If you buy a second BMW X7 you can also use the BMW Pay monthly service plan. It will either be transferred to you from the previous owner or you can buy from new. This will give you all the benefits described above.
.more...