Citroen Berlingo Multispace
Cheap, Compact & Low Road Tax
Citroën's Berlingo range of multi-purpose vehicles (MPVs) were first brought to the market in 1996 (20 years ago). The Citroen Berlingo Multispace 7-seater can quite justifiably be put on the Cheap Seven-Seater list.
Since it's introduction to the UK it has become a sensible family car choice for the masses. The Berlingo Multispace is functional beyond belief with newer models achieving better fuel efficiency, including more gadgets and still being affordable. It is spacious, cheap to run and cheap to buy.
Purchase Price
The latest Citroën Berlingo Multispace prices range from £13,355.00 to £18,725. Second hand or used Berlingo's can be picked for less then £5,000.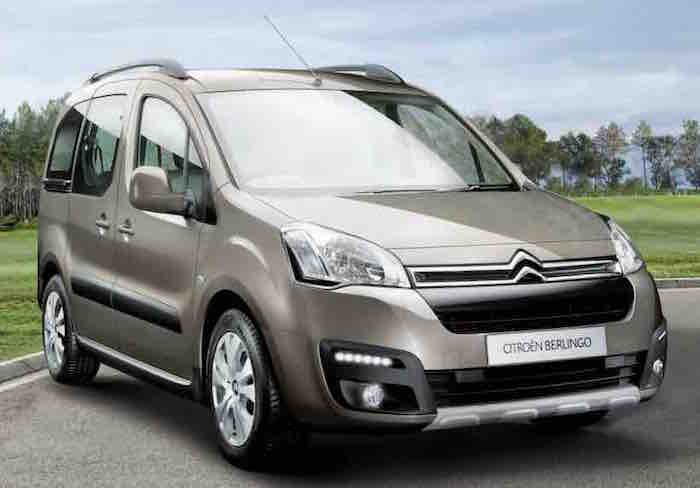 Citroen Berlingo Multispace pictured above.
Co2 Emissions & Car Tax Band
The Berlingo Multispace's CO2 emissions range between 109g/km and 148 g/km. The Diesels are the most environmentally friendly.
BlueHDi 100 S&S ETG6 109 g/km - Car Tax Band B;
BlueHDi 100 S&S manual 109 g/km - Car Tax Band B;
BlueHDi 75 manual 113 g/km - Car Tax Band C;
BlueHDi 100 Manual 113 g/km - Car Tax Band C;
BlueHDI 100 manual + Family Pack (7-seats) 113 g/km - Car Tax Band C;
BlueHDi 120S&S 6-speed manual 115 g/km - Car Tax Band C;
Petrol VTi 95 manual 148 g/km – Car Tax Band F;
In summary Car Tax brackets (VED Rates) for the Berlingo Multispace range from Band B (currently 20 per year) to Band F (currently £145 per year).
Miles Per Gallon (MPG)
The Citroen Berlingo Multispace is an economical 7-seater especially in the diesel format. The diesel estate 1.6 HDi 90VTR 7-seat version does 44.1 miles per gallon (urban cycle); 56.5 miles/gallon (extra urban cycle) and 51.4 miles/gallon (combined). Newer models (from 2015) are even more economical:-
The Petrol VTi 95 manual does between 34.4 and 53.3 MPG
The BlueHDi 75 manual does between 55.4 and 72.4 MPG
The BlueHDi 100 Manual does between 55.4 and 65.7 MPG
The BlueHDI 100 manual + Family Pack (7-seats) between 55.4 and 65.7 MPG
The BlueHDi 120S&S 6-speed manual does between 57.6 and 64.2 MPG
The BlueHDi 100 S&S manual does between 61.4 and 72.4 MPG
The BlueHDi 100 S&S ETG6 does between 65.7 and 68.9 MPG
Performance
The maximum speed varies slightly between 97 MPH (BlueHDI 75 manual to 109 MPH (BlueHDI 120 S&S 6-speed manual). Accelerating to 62 MPH varies between 11.4 seconds (Blue 120 S&S 6-seed manual) and 15.1 seconds (Blue HDi 75 manual). The seven seat version gets to 62 MPH in 13.4 seconds.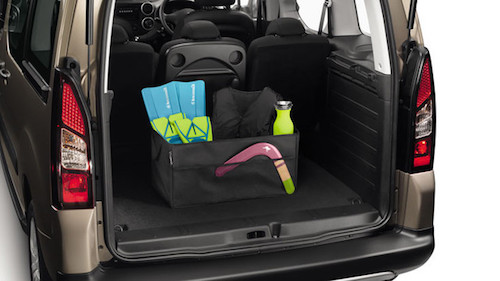 Citroen Berlingo Multispace Boot Space
Comfort
Standard features include the usual gadgets you'd expect with a new car such as remote control locking, cruise control, air conditioning, cigarette lighters and roof bars. You could add an All Road Pack to get underbody engine protection and raised suspension.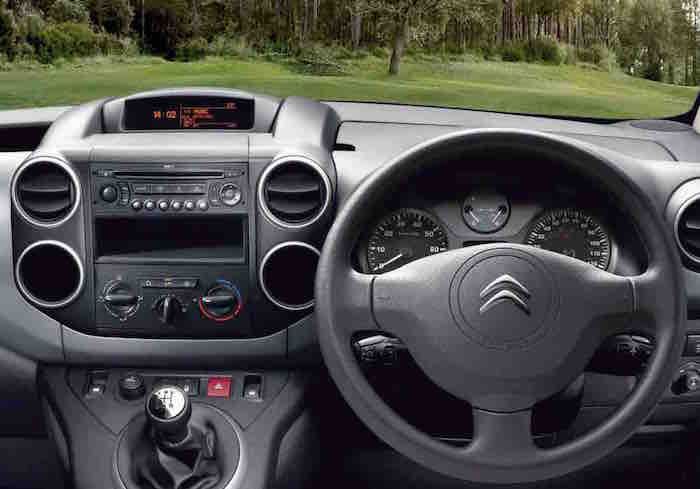 Citroen Berlingo Multispace Cockpit.
The Serenity Pack adds electrically folding, heated door mirrors and rear parking sensors. The Child Pack adds an observation mirror, side window blinds (row two) and a central storage area.
Exterior Styling
Exterior styling has also improved. The Citroen Berlingo Multispace Touch Look includes 15 inch Feroe steel wheels, silver effect U-shape chevrons, black front bumpers, black near number plate moulding, black door mirrors, black side rubbing strips and black door handles.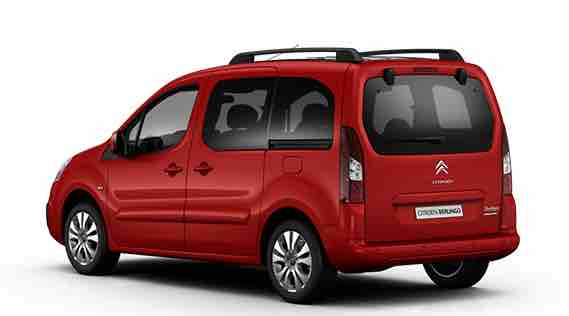 Citroen Berlingo Multispace Rear View
The Multispace Feel Good Pack has the same wheels but adds body colour front bumpers, door mirrors and rear number plate moulding.
The Multispace XTR Look Pack has 16 inch Tikehau alloy wheels, chrome chevrons, black upper bumper inserts, silver effect lower bumper insert, body colour rear bumpers and a split opening tailgate with dark tinted rear side and tailgate windows.
One of a Family
The Berlingo Multispace 7-Seater joins a large family of other 7-seaters from Citroen, these are the; Citroen C-Crosser, Citroen Grand C4 Picasso, Citroen Dispatch Combi (6-9 Seats), Citroen C8, and the Citroen Tubik (Citroen Concept MPV).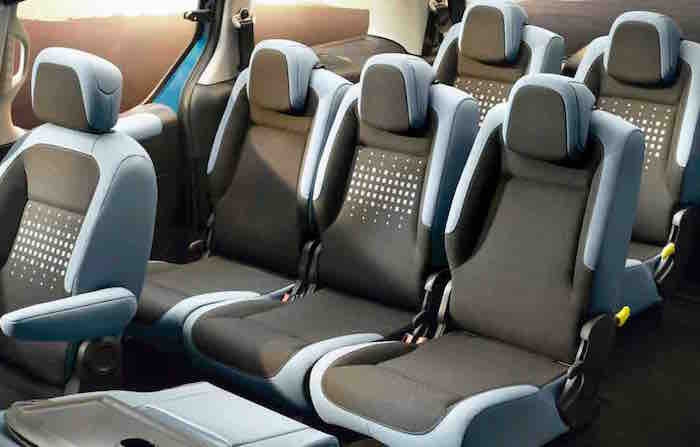 Citroen Berlingo Multispace Interior Seating pictured above.
Exterior Colours
Exterior colours include; Polar White, Passion Red, Black, Kyanos Blue, Moka Grey, Nacciola, Cumulous Grey, Artic Steel and Shark Grey.

Berlingo Multispace Exterior paint choices.
Boot Space
With all seven seats upright the boot space in the Citroen Berlingo Multispace is 100 cubic litres. With the third row removed the storage space increases to 600 cubic litres. With the second and third row seats removed you get yourself a very spacious VAN (and 3000 cubic litres). Additional storage is found in all the nooks and crannies (under seats, above the head, cubby holes and roof space). Newer models are boasting an additional 175 cubic litres of storage space added from the ceiling mounted storage area.
Dimensions
The Citroen Berlingo Multispace is 1.81 metres wide and up to 1.801 metres high. The XTR is 6mm (6cm) higher. The distance from front to back is 4.38 metres. This still classes it as a regular sized car when crossing the channel by ferry.
In Car Entertainment
As mentioned above there are three levels of trim (Touch, Feel and XTR). The Touch and Feel come with an RDS stereo, aux point, CD player and steering mounted controls. Opting for the XTR gets you a 7 inch Touchscreen, DAB digital radio with 4 speakers, Bluetooth, USB socket and steering mounted controls.
Levels of Equipment
2016 has been kind to the Berlingo Multispace with Citroen offering four levels of equipment. At base level there's the Touch Trim. The other three trims are called the Feel, the Feel Edition and XTR. However you can only get the 7-Seats when you buy the Multispace Family Pack and the Feel Trim.
The Family Pack
Please note that the Multispace Family Pack costs an additional £850. This will include three separate seats in row two and two in row three. The seats are removable and foldable. You will also get front lateral airbags; aircraft style tables on the rear seats, a luggage cover and a 12-volt socket.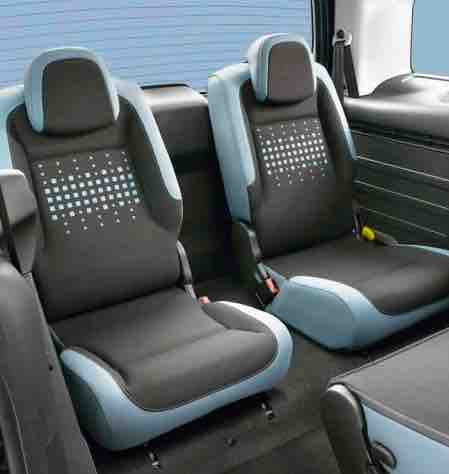 Citroen Berlingo Mutlispace Third Row Seats
Insurance Group
Insurance brackets range from a very sensible 10E to a respectable and affordable 17E. The Citroen Berlingo Multispace is therefore one of the cheapest 7-Seaters to insure.
Extra Features
Extra features include electronic parking sensors, hill start assist technology, a cruise control, speed limiter, an interior roof rack, a removable console storage space fitting between the front seats, drawers for under the driver's seat, and cup holders.
Safety Additions
Safety features include airbags for all passengers in addition to the driver, advanced safety braking technology and an electronic stability program. There are ABS with electronic brakeforce distribution and emergency braking assistance, ESC, hill start assist, tyre pressure sensors, laminated windscreen, automatic hazard light activation, height adjustable seatbelts and 2 rear row ISOFIX mounting points.
Conclusion
The Berlingo Multispace is basically a seven seat van with windows that offers additional space at an affordable price. These types of cars are extremely popular in the EU; however their appeal isn't as widespread here in the UK. However, the low price tag and fuel efficiency makes it a sensible choice. Basic models are the most affordable with the diesel models tending to be nippier than the petrol versions.
.more...