Why have Sliding Doors?
With a large number of seven-seater cars out there right now, there is one almost must-have option that people specify when buying one, and that is for it to have sliding doors. There are a few that don't have sliding doors, such as the Ford S-Max, but its younger brother, the Grand C-Max 7-Seater does.
Are Sliding Doors a necessity?
As cars are becoming larger every year, and car parking spaces seemingly smaller and smaller, it is almost a necessity to have sliding doors on your car. It saves car parking dings and allows for putting bags in the rear passenger compartment without having to hold onto the door. For many people who buy seven-seater cars, it's because they have children, who will obviously want their friends to come for the ride occasionally, so having sliding doors makes it easier to get in and out of the rear of the car.
There are a good number of cars with doors like this, such as the Fiat Doblo Family, VW Caddy Maxi Life, Kia Sedona, Peugeot 5008 and the VW Caravelle, to name a few. In many cases, those that first experience the revolutionary doors are smitten and wouldn't buy another car with 'regular' doors ever again. It's worth noting that stepping out onto the street can be a little more dangerous as car drivers are more likely to see a door being swung open than a neat sliding door, and it will be your leg to be the first thing the driver sees. Precautions are necessary.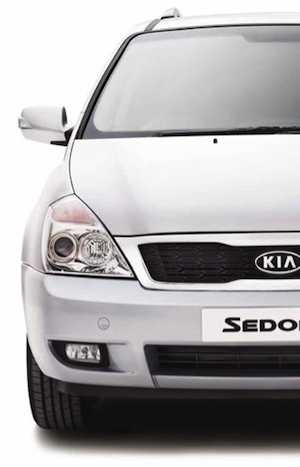 Kia Sedona pictured above.
Sliding doors have been filtered down from vans and minibuses, which help loading as they lock into the open position. Since many seven or eight-seater cars are based on commercial van platforms, the integration has been fairly straightforward, there are even electric sliding doors now so you don't even have to muster the energy to pull it shut or open, as seen on the Peugeot 1007, which is only a five-seater, but no doubt this feature will make it to the larger models.
Back to those pesky supermarket car parking spaces, in some cases, with large cars, it's necessary to reverse out of the parking space in order to gain access to the rear doors, if you're trying to put your child in the rear seats, for example. This isn't exactly ideal as the child will have to be left while you reverse the car out! Sliding doors are therefore excellent.
There are downsides to sliding doors, though, the mechanisms needed are fairly basic and the weight of the doors is far more than regular doors, which will worsen fuel efficiency and the groove you see in the side impacts air flow around the car. The doors can even come off their runners, which would cause an expensive bill to replace or repair, and due to the way they shut into place; if the large piece of flat metal becomes bent then the door won't shut properly. Having a sliding door that won't shut is far more dangerous than a regular door.
The pros do outweigh the cons in the sliding door question, and thankfully manufacturers are adding them to more models. Just remember to double check traffic if you're stepping out onto the road side!
.more...